Belfast Marathon to run on a Sunday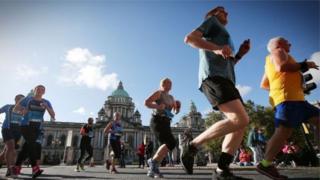 Belfast City Marathon will have a new look in 2019 after councillors agreed to changes to the route and race day.
The marathon normally takes place on a bank holiday Monday, but next year will be held on a Sunday morning.
Areas not previously on the route will now be included, including the Lisburn Road, Finaghy to Andersonstown and the Waterworks.
The council's Growth and Regeneration Committee approved the plans on Wednesday with cross-party support.
The marathon will now start at Stormont instead of City Hall, but will still finish at Ormeau Park.
The plans will now go before the full council on Monday.
For decades thousands of spectators have lined the route of the race each May.
Chair of the committee, SDLP councillor Donal Lyons, said the 2019 route should benefit local traders.
"The change of day will go down well, because it will allow Sunday marathon runners the day to recover on Monday and hopefully give Belfast a potential boost for our tourism trade," he said.
"The route has changed quite a bit and spans all parts of the city. Starting in Stormont the marathon will sweep through the city to the Ormeau Road, curve south to include the Lisburn Road and Finaghy.
"It then heads up to Andersonstown Road, onto the Falls and across the Shankill to the Crumlin Road before heading back to the city centre."
He added: "While the final stamp of approval is due to be given on Monday night at the full council meeting, I have no doubt that this good piece of news will be seen for what it is."
Sinn Féin's new council group leader Ciaran Beattie said his party hopes "route number one" of the two proposed routes will now go through a successful public consultation with few, if any, speed bumps.
"We're really happy, this will be the most balanced marathon yet in terms of geography and it will touch every part of our city," he said.
"Parts of south Belfast and the Waterworks will now be included and, of course, everyone along the whole route will be consulted over any concerns."
New, more intricate routes for the course mean extra stewards will be required to handle the large, scattered crowds, costing an extra £50,000, bringing the total potential bill for next year's event to around £650,000.
Several representatives felt this extra money would be recouped and more through trade and tourism.
The marathon is organised by Belfast City Marathon Limited - a free standing, legally constituted organisation that has no actual legal connection to the council, except in relation to funding.
Changing the race to a Sunday was recommended to organisers in a request from the Belfast Chamber of Trade and Commerce, who said the first May Bank Holiday should be a significant trading day and a move to a Sunday race would boost visitor numbers.