Lurgan man David Lyness guilty of murdering Anita Downey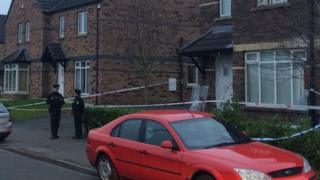 A Lurgan father of three has been convicted of murdering his fiancée by cutting her throat.
Anita Downey, 51, a mother of three from Lurgan, bled to death on the floor of David Lyness's Toberhewney Hall home in the early hours of 20 January 2017.
She had suffered a wound to the left side of her neck which extended back to her spine and severed her jugular vein.
On Wednesday, a jury took less than two hours to return a unanimous guilty verdict against 52-year-old Lyness.
He was told he will serve a life sentence by Judge Geoffrey Miller QC
There will be another hearing to determine how long he will spend in prison before he is eligible to be considered for release.
Lyness had claimed that after an evening of drinking wine, Ms Downey came at him with a knife she lifted from his kitchen.
He told police that during a "frantic struggle" when he tried to disarm Ms Downey, they both ended up on the floor where he noticed blood coming from her.
It was also Lyness's case that when he realised Ms Downey was dead, he tried to take his own life by cutting his own throat, then lay beside her cuddling her and waiting for the emergency services to arrive.
However, during the trial, the jury heard evidence from Lyness's son, who witnessed his father straddling Ms Downey.
Lyness's version of the fatal wound being caused accidentally was also rejected by the assistant state pathologist for Northern Ireland, who said "you couldn't get a wound like that simply as the result of an accident".
Dr Christopher Johnson said the only way such a wound could have been caused was by "somebody taking a knife and cutting her throat with it".
Lyness was called to give evidence earlier this week, and while he answered a handful of questions put to him by his own barrister, he then accused the barrister of asking him to perjure himself.
He then refused to answer any further questions put to him by his barrister - and later withdrew the instructions of his legal team.
Lyness also refused to speak under cross-examination by a prosecutor, who suggested that his silence was because the version of events he gave police was "ridiculous".
After the trial, Judge Miller paid tribute to Ms Downey's loved ones for the dignity displayed during the trial, and said: "The court extends its sympathy to the family and friends of Anita Downey, who have suffered as a result of this grievous act committed by the defendant."