Rugby rape trial: Charges possible over social media posts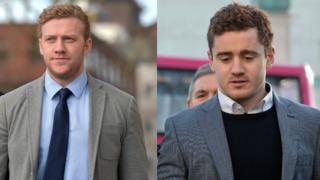 Prosecutors are considering whether to charge two people who identified a woman who alleged she was raped by two high profile former Ulster Rugby players.
Police have questioned them about naming the woman on social media.
Paddy Jackson and Stuart Olding were cleared of rape after a trial that lasted nine weeks.
It is a criminal offence to name the complainant in a rape trial in Northern Ireland.
But several people used social media to identify the woman at the centre of the case.
PSNI Assistant Chief Constable Stephen Martin told the Northern Ireland Affairs Committee on Wednesday that the police are engaged in discussions with the Public Prosecution Service about the possibility of pressing charges.
In a statement, a police spokesman said: "There is an ongoing police investigation and two people have been interviewed in relation to an offence under section five of the Sexual Offences Amendment Act 1992.
"Two files have been forwarded to the Public Prosecution Service for consideration."
Following the trial, Mr Olding and Mr Jackson had their contracts with Ulster Rugby revoked.
They have since been signed by clubs in France.