Queen's University reviews Presbyterian Church-run college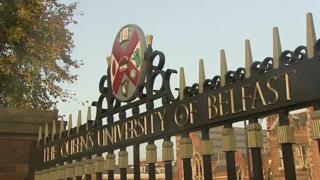 Queen's University has put its relationship with a theological college operated by the Presbyterian Church in Ireland (PCI) under review.
The PCI has been under fire after it was decided that anyone in a same-sex relationship cannot be a full member of the Church.
The Church runs the Union Theological College, which delivers theology degrees to Queen's students.
The news was first reported by the Belfast Telegraph on Wednesday.
On Tuesday BBC Radio Ulster's Talkback programme revealed that the college had suspended Laurence Kirkpatrick, its professor of church history, after he criticised the Church over recent decisions on same-sex couples.
The university confirmed it was taking "active steps to review the nature of the relationship" with the theological college, which it funds to provide undergraduate degrees.
It added that "several options are currently under consideration".
The news comes after controversial decisions taken at its General Assembly earlier in June.
The Presbyterian Church voted to exclude those from same-sex relationships from full membership and also not to allow their children to be baptised.
It also voted to loosen ties with the Church in Scotland because of its more liberal attitude to same-sex relationships,
While many ministers have expressed their agreement with the decision of the General Assembly, a number of politicians, ex-clergymen and church members have spoken out against the decision.
'No control'
The PChurch has also denied claims it was attempting to silence ministers, after it wrote a letter warning them against engaging in "public comments" that might bring the church "into disrepute".
Queen's University said that it had already commissioned a strategic review of the Union Theological College and that "changes will be implemented for the beginning of the new academic career".
The review, seen by the BBC, raised issues over the college's curriculum, which is "largely based on Protestant evangelical teaching with little input from other perspectives", and a "lack of diversity in the teaching provision and staff".
It added: "In a post-conflict Northern Ireland, it is highly unsatisfactory that the teaching of theology is not provided across denominational lines."
The review noted that there were no full-time female staff teaching undergraduates and recommended a radical increase in diversity among the "teaching staff, student body, teaching methods and teaching content".
The review also outlines that the university has "no control over college staff appointments".
The Union Theological College said the review is "one of a number of regular reviews that have taken place over the years to ensure students are offered an enriched learning experience with high academic standards, which are competently assessed".