RHI inquiry: Officials 'treated as opposition' by SPADs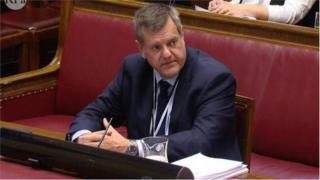 A top civil servant has said he felt officials were treated as the "opposition" by DUP special advisers as they tried to curb the rising cost of the RHI scheme.
Chris Stewart was appearing before the public inquiry into the energy scheme.
He said he felt the civil servants, special advisers (SPADs) and their ministers were not "on the same team" as they struggled to rein in spending.
Mr Stewart was top tier management in the then Enterprise Department.
He said had there been greater trust between officials, SPADs and the minister, they could have thrashed out an approach that might have been much more effective.
Asked to expand on his statement that he felt officials were treated as the "opposition" Mr Stewart said he recognised it was a "profound thing to say".
He said going back to the start of work on cost controls "we had negotiated with the SPAD what we took to be the minimum possible action to be taken to reduce expenditure".
"[We] thought we had agreement on that, then received two counter proposals, both of which were clearly designed to keep costs and expenditure, if not where they were, then higher than we intended.
"That does suggest to me that we weren't on the same team."
The inquiry has heard that as the crisis unfolded, DUP SPADs presented an option for longer boiler run times before the top tariff was cut.
It was rejected, but another suggestion that the changes take effect in November rather than October 2015 was ultimately accepted and let hundreds of extra applicants into the scheme on more lucrative payment rate.
What is RHI?
The RHI (Renewable Heat Incentive) scheme was set up by the Northern Ireland Executive in 2012, as a way of encouraging businesses to switch from using fossil fuels to renewable sources for generating their heat.
Those who signed up were offered financial incentives to buy new heating systems and the fuel to run them.
The scheme's budget ran out of control because of critical flaws in the way it was set up: Claimants could effectively earn more money the more fuel they burned because the subsidies on offer for renewable fuels were far greater than the cost of the fuels themselves.
The inquiry heard more evidence from Mr Stewart on the role of SPADs.
He said while they were notionally subject to their own code and the civil service code, special advisers were essentially autonomous.
Inquiry chair Sir Patrick Coghlin asked him if SPADs made their own rules.
Mr Stewart said while he did not think they were entitled to make their own rules, that might well be the practice.
He said he believed that the advisers had contributed to a release of information to industry about planned cuts to tariff payments which helped drive a spike in RHI applications.
Mr Stewart called for rules applying to advisers and the release of such information to be tightened and enforced.
'Complete dismay'
Earlier, he said there was "complete dismay" when officials realised a massive projected overspend on RHI would have to be paid from their own budgets.
Until December 2015, officials thought the Treasury might pick up most of the bill.
They then got confirmation that all of the money would have to come out of the Northern Ireland block grant.
At one point, the bill was put at £700m over 20 years, though this is disputed.
That exposure has been limited by temporary cost controls and the scheme is now roughly within budget.
A public consultation on permanent cost controls is now under way.
Mr Stewart also said it was not the case that officials only became concerned about the overspend when they realised the Treasury would not foot the bill.
He said it was not that it had "suddenly started to matter", it was that it had become "completely unaffordable".
Mr Stewart said civil servants had a duty to spend public money wisely, whether it was coming from London or was a locally-managed budget in Belfast.
'Only a matter of time'
Mr Stewart also said the practice in Northern Ireland of replicating policies from Great Britain but with much smaller teams of civil servants was potentially risky.
He said for the most part they had "got away with it", but if it continued it was "only a matter of time until there was another RHI".
Mr Stewart said he now accepted that staffing levels in the Energy Division, which was responsible for the botched green energy scheme, had been "inadequate", a conclusion he had come to while "sitting in the wreckage of RHI".
The senior official accepted some personal responsibility for flaws in the scheme.
He said it was his responsibility to ensure robust governance systems that prevented failings.
However, there had been too much reliance on the Office of Gas and Electricity Markets (Ofgem) to administer the scheme on the department's behalf.
A "hands-off" approach had been adopted and that was entirely his fault, Mr Stewart said.