Dunmurry Manor: 'Reasonable' that funds could be cut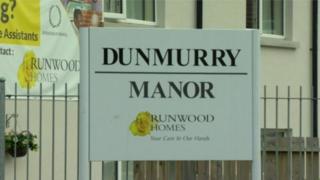 Profitable private care homes could be "hit in the pocket" if they fail to comply with health and safety regulations.
The Department of Health's chief social worker was speaking about a series of actions announced to address failings at Dunmurry manor.
They include a scoping review of potential additional sanctions for private sector care home providers responsible for serious failings.
Sean Holland said this was only fair.
"Sanctions shouldn't be the first port of call, however if a home needs to improve we want to work with them," he said.
"Cutting off money isn't always the best way to help a home improve.
"But in the case of Dunmurry Manor we've got a home which is being run by a very profitable private company.
"So I think it's reasonable for people to ask if they are not providing the care they are meant to be providing why would they not be hit in the pocket for that failure."
Earlier this month, an investigation into the Belfast care home found a "horrific catalogue of inhuman and degrading treatment".
The report was by NI's Commissioner for Older People, Eddie Lynch.
It followed an investigation into the care and safety of residents living with dementia at Dunmurry Manor.
'Steps will be taken'
The Department of Health announced a series of actions in response to the Commissioner for Older People's damning report into Dunmurry Manor.
According to Mr Holland this latest response by the Department of Health is appropriate as it has been given a full 3 months to study and provide a fuller and more in-depth response to the reports findings.
"In the interim we also felt it was important that the public were assured that steps would be taken and some of those steps don't need to wait for us to complete our full assessment," added Mr Holland.
"Also the Permanent Secretary was anxious to make an apology to people who have had bad experiences."
The department said its response included:
An independent review of actions by the health and social care system in relation to care failings at Dunmurry Manor
A review on options for additional sanctions for private sector care home providers and companies responsible for failings
A public awareness campaign informing care home residents, families, staff on how to raise concerns
An audit of safeguarding investigations of independent care homes
Unacceptable failings
The commissioner's report was being taken seriously, said Richard Pengelly, the department's permanent secretary, adding that saying sorry was sometimes not enough.
The department's first priority had been to seek assurance on the current standard of care at the home, said Mr Pengelly, with this being provided by Health and Social Care colleagues, as well as through the independent assessment work which was commissioned.
He was pleased to hear of the "very positive feedback" given by families of current Dunmurry Manor residents at a recent meeting, but said it was clear that there had been repeated unacceptable failings in care.
"That is a matter of extreme regret for everyone in the Health and Social Care system," said Mr Pengelly.
Following the damning report, the commissioner, Eddie Lynch, said the Regulation and Quality Improvement Authority (RQIA) had not taken sufficient action.
However, the RQIA denied failing its duty of care to properly investigate.