Toddler target of race hate incident in west Belfast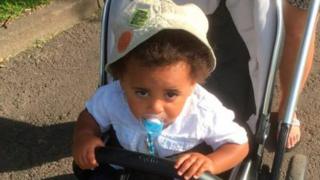 An 18-month-old boy has been targeted in what police say was a "racially motivated hate incident" in west Belfast.
The incident happened at about 12:15 BST on Monday on the Falls Road close to Milltown Cemetery.
Police said the incident happened in the presence of the child's mother.
They said there are reports that the woman allegedly involved in the incident was in her late 40s with auburn shoulder length hair.
They said she was "wearing a long skirt or maxi dress that was blue/purple in colour".
Police have appealed for information about the incident.