PSNI 'in the dark' over Brexit border security plans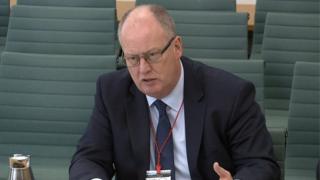 Northern Ireland's top police officer has criticised the lack of government decision making and guidance about security implications after Brexit.
Chief Constable George Hamilton said he feels "in the dark" because of a lack of information.
He said he does not even know to whom he should send a business case asking for additional resources for border duties after Brexit.
Mr Hamilton was appearing before the Northern Ireland Affairs Committee.
"We have people, senior official level, who have a responsibility for various scenarios post-Brexit, but their reach doesn't seem to come as far as Northern Ireland," he said.
'Time running out'
He confirmed that the Police Service of Northern Ireland (PSNI) plans to ask the government to fund the recruitment of about 400 additional officers for post-Brexit border security issues.
But he told the committee there was difficulty "finding the appropriate authority to present a business case to".
Mr Hamilton said that "time is running out" for decisions to be made to enable the PSNI to properly plan for the policing implications of leaving the EU.
"We get lots of sympathy and empathy, but we're not getting clarity and decisions," he said.
He added: "It would be much easier if we had this clear line, this understanding of who is leading the required multi-agency response to a land border between the UK and the EU.
"That's what we need and what we don't currently have."
Assistant Chief Constable Stephen Martin told the committee the PSNI is already under resourced, before having to factor in additional border security duties.
'Dissident threat'
He said that if the PSNI was to take officers from other duties to properly resource policing at sea and airports it would have to close neighbourhood policing teams and teams targeting organised crime gangs.
Mr Martin told the MPs that dissident republicans will attempt to exploit any additional law enforcement activity along the border to garner support, recruit new members, and attack police officers.
He said the PSNI will need additional resources because it will have to provide protection for customs officers and other agencies if they are required to conduct checks on vehicles crossing the border.
"I think it is highly foreseeable that if there is increased personnel operating in and around the border area... whether that be HMRC, whether that be people engaging in checking of standards of other products, then I think it's highly foreseeable that they will become the subject of threat," he said.
"That will of course engage the police in offering protection for those people going about their lawful duties on behalf of the government and their organisations and then we will become the subject of threat and attack."
Troubles legacy
The chief constable also made it clear that he does not personally favour proposals for a Statute of Limitations that would end prosecutions of former soldiers for killings during the Troubles.
"As police officer I do believe that everyone should be equal under the law," Mr Hamilton said.
"No-one should be above the law, police officer, politician, soldier, or anybody else, and certainly not terrorists."