BBC Spotlight: Brexit, Dark Money and the DUP
By Jim Fitzpatrick
BBC NI Spotlight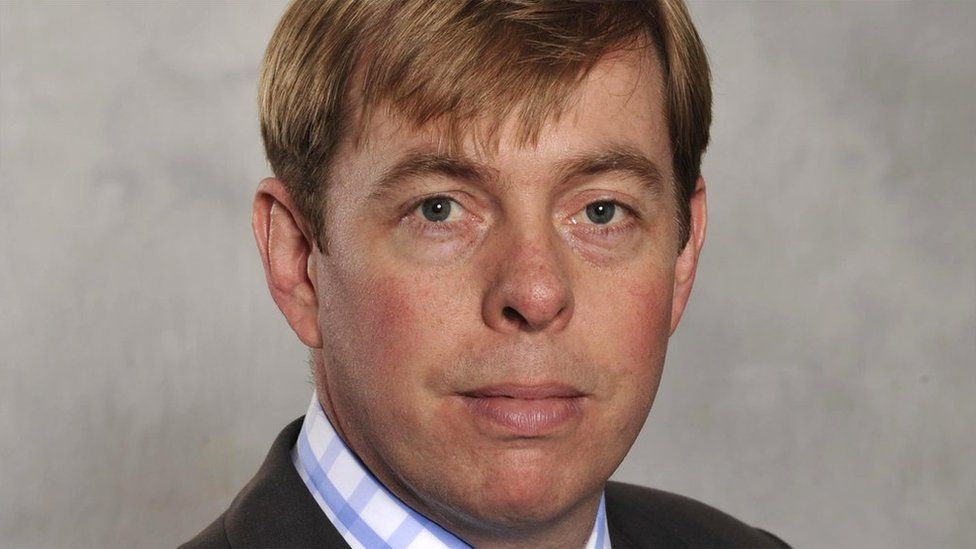 A BBC Spotlight investigation into the man behind the DUP's record £435,000 donation during the EU referendum has uncovered a trail of illegal activity and foreign money.
Richard Cook shipped illegal tyre waste to India in 2009.
He presented fake documents to the authorities and left a shipping company with a bill of more than £1m.
Mr Cook denies involvement in illegal waste.
Mr Cook, the chairman of the Constitutional Research Council which made the donation, and its only known member is also a former vice chairman of the Conservative Party in Scotland.
He was a founding director and shareholder of a company called DDR Recycling in Glasgow which has since gone out of business owing £150,000 in unpaid tax.
Spotlight travelled to Ukraine where Mr Cook's company had apparently signed an $80m contract in 2013. The contract purported to be for the purchase of used railway tracks.
But it transpired the person behind the company in Ukraine was a convicted criminal from Germany who had been sentenced to eight years in jail for his role in a large-scale food fraud.
Retired FBI Special Agent Gregory Coleman told the programme that such high value contracts would likely be of interest to authorities in the US who can investigate most financial crime where transactions are in dollars.
"I think there is a good chance that law enforcement in New York City would be interested in taking a further look at this and possibly opening something up," he said.
Richard Cook denied involvement in illegal waste and any knowledge of the Ukrainian contract and said he ceased day to day activities with DDR in 2009. However, he remained a director and shareholder until 2014.
The programme also scrutinised the role of Mr Cook and the Constitutional Research Council (CRC) and how the record donation was spent by the DUP in the EU referendum campaign.
Because the donation was made to a Northern Ireland party before July 2017, details around it remain secret, including details on where the CRC sourced its own donations. Richard Cook told Spotlight the money came from UK donors.
Former Labour Leader in Scotland Jim Murphy told the programme that he had never heard of the CRC before.
"No one I know and no one I have ever met knows anything about the CRC. The CRC are probably the most secretive organisation in British politics," he said.
Spotlight revealed that Richard Cook had a deeper role in the DUP's spending in the referendum campaign than previously known and that a £280,000 advertisement in London's Metro newspaper was booked by Cook himself.
In response to the programme's findings, Gavin Millar QC, an expert on electoral law, called on the Electoral Commission to investigate further.
"It has to compel answers from those involved, which it has powers to do. If necessary it needs to obtain court orders compelling answers from people involved, and disclosure of information," he said.
The DUP told Spotlight that the party authorised and directed all spending. It said it had complied with electoral law at all times. When it was put to Mr Cook that he booked the Metro advertisement he replied that there had been no breach of electoral law.
You can watch Spotlight: Brexit, Dark Money and the DUP here.