Doctors could leave Northern Ireland warns BMA chief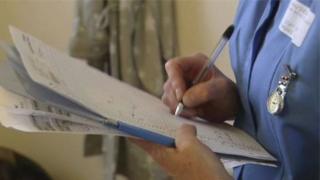 Low morale and increasing pressure at work could lead to doctors leaving Northern Ireland, it has been warned.
Dr John D Woods, the British Medical Association's chair in Northern Ireland, said that more than 70% of consultants in Northern Ireland reported their morale as low or worse.
He added that four out of five doctors felt they did not have enough time for ongoing learning and development.
Dr Woods said the situation needed to change to prevent doctors leaving.
'Long-term funding'
The BMA's findings came after it asked doctors in Northern Ireland about their working lives.
Dr Woods said doctors in Northern Ireland "feel under pressure in a way in which I don't think they ever have before".
"All of our surveys indicate that doctors have workloads that prevent them having proper work life balance, and 60% of doctors think there are better opportunities to work as a doctor outside of Northern Ireland," he said, speaking at the BMA's annual conference in Brighton.
He said a Stormont government, and a health minister, would help improve doctors' lives alongside "long-term, recurrent funding".
Northern Ireland has been without a government since it collapsed in January 2017.