Historical glimpse into life at Silent Valley reservoir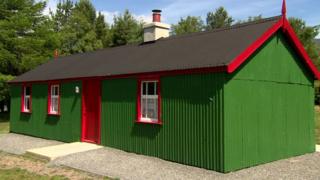 A workers' cottage which housed people building the Silent Valley reservoir a century ago is offering a glimpse of history.
The house has been given to a heritage site beside the dam by the family of a woman who lived in it until recently.
The three room property is made mostly of wood with a cast iron roof and is described as "freezing in winter, an oven in the summer".
Despite the difficult conditions, Mary Cunningham lived there until 2010.
Her grandson, John Haugh, has fond memories of the cottage, known as Watertown House: "That's the house she lived in all her adult life. There was no central heating.
Grandmother's colours
"She had running water. No inside toilets. She had to go to the toilet outside, and that is what she was used to.
"I think it looks really, really well and it is kept in the colours that my grandmother had it in for over fifty years."
The house has been moved from its original location to a mini-village beside the Silent Valley in the heart of the Mournes in County Down on land owned by NI Water and is open to visitors.
Sara Venning, the chief executive of Northern Ireland Water, said: "Watertown sprung up as the dam was built in the early 1920s and actually a whole town sprung up so there was a hospital, there was a ballroom, there was a cinema.
'Watertown has disappeared'
"It actually had the first electric street lighting in Ireland. All these thousands of people who came together to construct that dam, to enable us to harness that water resource, and that water resource lasts with us today."
That town has disappeared leaving a small heritage village, including a police station, with a visitor centre to show how people lived then.
The refurbishment project is part funded by the Heritage Lottery Fund.