Heatwave: Public urged to conserve water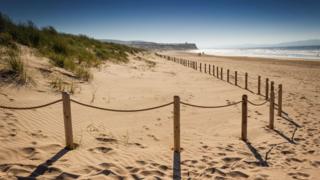 With the heatwave well underway water authorities have asked the public to play a role in conserving water.
Northern Ireland Water - which continually checks water levels in key reservoirs - said the weather is a situation it closely monitors.
During a long spell of dry weather, the demand for water increases significantly.
We each use "approximately 153 litres of clear, treated water every day" said a spokesperson.
However, despite the continuing warm weather, the company said there is still plenty of water.
"Approximately 51% of water supplied to customers in Northern Ireland comes from impounding reservoirs (man-made). Storage in our impounding reservoirs currently stands at 79% which is satisfactory for this time of year and poses no concern."
In the Republic of Ireland Irish Water has warned people in County Dublin that water restrictions will become "unavoidable" as the demand levels for water rose overnight from Monday into Tuesday.
The company said it can produce 610 million litres of water per day for the area.
Some towns and cities have already experienced disruption.
"Already some areas in Athlone, Kilkenny, Longford and north Dublin have experienced outages and restrictions and areas in Donegal and Mullingar have been identified as being at risk."
Increased fire risk
Authorities have also warned of the increased risk of wildfires as temperatures are set to reach 30C in some spots on Wednesday.
"Often the dry conditions, like we have seen in recent weeks, can lead to an increase in the number of gorse fires we attend. Sadly, the majority of these are started deliberately" said Gerry Lennon, Group Commander of the Northern Ireland Fire and Rescue service.
"Gorse fires can also be caused accidentally by something as simple as throwing a cigarette from a car window, leaving a glass bottle on the ground or not extinguishing a barbecue properly.
"Your seemingly innocent mistake could well cause a severe gorse fire that destroys acres of countryside and ties up fire fighting resources for prolonged periods."
In the Republic of Ireland a "Condition Red Forest Fire Danger Rating Notice" has been issued - the highest level and very rare.
The Department of Agriculture, Food and the Marine has recommended forest owners act immediately to implement fire prevention plans, and be prepared for the likelihood of fire outbreaks on or around their property.
It has also requested that the farming community be particularly vigilant with regard to the use of machinery around hay meadows, and to refrain from the use of fire on cultivated farmland.