Why have Gaelic football attendances in Ulster dropped?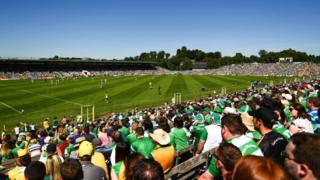 This year's Ulster Senior Gaelic Athletic Association (GAA) Football Final between Donegal and Fermanagh attracted a crowd of 28,780, including the DUP leader Arlene Foster.
That was a capacity attendance for St Tiernach's Park in Clones, County Monaghan.
But that has not always been the case in this year's Ulster Championship with attendances down from 2016 and 2017.
Figures compiled by the BBC show that the average attendance at Ulster Championship matches has fallen by more than a quarter since 2016.
In 2018 the average attendance per match in the Ulster Championship was 12,370, down from 15,581 in 2017, which was in itself down from 17,135 in 2016 - that is a fall of 28% from 2016 to 2018.
The figures have been compiled from official GAA social media accounts and BBC and RTÉ match reports. In 2016 there were two replays, so the average was worked out over 10 games instead of the usual eight played in the Ulster Championship.
The figures were put to the GAA, which pointed out that the official capacity of St Tiernach's Park for safety purposes is currently 28,780 whereas in 2016 it was 33,433.
"Such was the demand again this year for tickets, we believe if we had to have 33,433 tickets available they would have all been sold," said a spokesperson.
The total attendance for both 2017 semi-finals was 36,000, for 2018 it was 22,000. That is a lot of people and a lot of revenue for the GAA, which runs the amateur but lucrative sport.
Some GAA commentators say a drop in quality, increased ticket prices and competition from other sports have led to the fall.
However, the head of the GAA in Ulster, Brian McAvoy, believes that while increased ticket prices are a factor, they are not the main one.
But he does think that the association will have to look "at the packages [it is] offering".
Teams are now squeezing more games in a shorter time so families have to take that into account, with some opting to attend games later in the championship, he told the BBC.
'Condensed'
Mr McAvoy believes that this "condensed" format is the real reason for the smaller crowds.
"People are being more selective about which games they are attending," he said.
Mr McAvoy say that lifestyle changes are having an impact on whether fans travel to games.
"It is a lot of pressure on family time," he said. "Society has changed, people are doing a lot more things, sport is just one element in many people's hit list and Gaelic games are one element of that.
"We are not living in the Ireland of the 1940s or 1950s - the Ireland of 2018 is very different."
The enduring popularity of 'Gaelic'
The GAA is a hugely popular organisation throughout Ireland.
The championship is the most prestigious competition in Gaelic football and is fundamentally a knock-out competition, although teams do get a second chance after their first defeat.
Children's tickets were priced at £5 for all games in the Ulster Championship, whereas a stand ticket for the final cost €28 (£24.80).
The GAA is organised for the most part on Ireland's traditional parish geography. In many of the those, the concept of the area, the community and its GAA club are entirely intertwined.
Cahair O'Kane, a journalist and columnist with the Irish News, disagrees with Mr McAvoy, arguing that the increase in ticket prices has been "the single biggest factor in the decline in attendances this year".
"To introduce a charge for u16s into the terraces for the first time during the same season as implementing a price rise for adults has backfired," he said.
"When Tyrone and Monaghan, two of the best sides in the country, fail to get near selling out the capacity for a game that is not live on TV, it's clear there is something not right."
"When prices (last rose) in 2011, attendances dropped. When prices were cut again the following year, they recovered instantly. I'd be surprised if a similar move isn't made this winter," he added.