Call to improve nursing home complaints process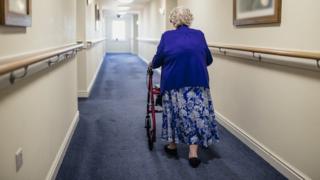 The complaints process in nursing homes should be made easier and grievances should be investigated impartially, the Patient and Client Council has said.
The patients' advocacy group said residents are often reluctant to speak out, fearing it could affect their care or that they could be asked to leave.
Maeve Hully, chief executive of the Patient and Client Council (PCC), said residents should feel safe and secure.
She added that care homes should have a "transparent complaints process".
As of 30 June, 2017 there were 10,700 nursing care beds in Northern Ireland, and according to the PCC, 99.8% of those beds are in the independent sector.
'Demonstrate change'
The PCC has made a number of recommendations in its report entitled 'The experience of living in a nursing home'.
One of those recommendations is the implementation of a complaints process that is in line with standards set by the Department of Health.
Ms Hully said nursing care home providers should be able to demonstrate where changes have occurred as a result of a complaint.
"People should feel confident to raise issues about their treatment and care and know that it will be thoroughly and impartially investigated," she said.
Earlier this month an investigation into Dunmurry Manor care home found that residents were subjected to "a catalogue of inhuman and degrading treatment".
Northern Ireland's Commissioner for Older People investigated care and safety of residents with dementia at the care home on the outskirts of west Belfast.
The report said many residents were "spending their last few months living in appalling circumstances".
The Runwood Homes Group, which owns the home, issued an apology and assured residents and their families that it had taken "corrective action".