Jim McCafferty: Sentencing adjourned for ex-Celtic kitman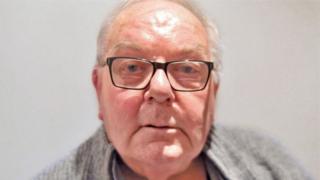 A former Celtic Football youth coach sexually abused a teenage footballer "in a calculated fashion" a court was told.
Jim McCafferty, 72, formerly of Raby Street in Belfast pleaded guilty in May to eight counts of sexual assault.
He initially pleaded not guilty but changed his mind on the morning of his trial in May 2018.
At Belfast Crown Court judge Patricia Smyth adjourned sentencing until 13 August.
McCafferty lived in Glasgow before moving to Northern Ireland in recent years.
He previously worked at the football clubs Hibernian, Falkirk, and Celtic more than 20 years ago.
He is not believed to have worked in football in Belfast in any capacity.
The court heard that Daily Mirror journalist Jilly Beattie spoke to McCafferty in December 2016 about a sexual assault allegation.
Prosecution lawyer David Russell said McCafferty revealed to Ms Beattie that he had touched several boys while working as a coach and kitman in Scotland.
"He also told the journalist that he had been involved with a boy, who he named, in Belfast where he had been living for the past seven years.''
'A degree of premeditation'
The victim initially told police there was "nothing to report" but when informed of McCafferty's admissions he told police of two specific incidents when he was 14-years-old.
The first happened at McCafferty's Raby Street flat where he sexually assaulted him.
He said that when this happened he told McCafferty: "No, no,'' but the defendant continued with the sexual assault for a further 10-15 seconds.
The second incident happened a few months later when McCafferty sexually assaulted him and who again told the defendant "No" but he continued to assault him.
He said that he sexually assaulted the boy "in a joking fashion'' and continued with the assault even though the victim said he didn't want it to happen.
McCafferty also admitted that he knew the boy was aged between 14 and 15-years-old at the time.
The former kitman also admitted that the offending mostly took place in his own home and on the "rare occasion'' in the boy's home and the sexual assault would last up to one minute.
Describing the aggravating factors, prosecution lawyer Mr Russell told the court the offences took place over a prolonged three year period on a "frequent and weekly basis."
"There was a degree of premeditation which flows from the fact of the repeated offending.
"He was a mature man who behaved in a calculated fashion time after time to sexually assault a child,'' added Mr Russell.
The prosecutor said that in mitigation, the court should take into account McCafferty's admissions of guilt and also his clear criminal record.
Defence barrister Patrick Taylor told the court that he accepted that the "frequency of the offending by McCafferty was an aggravating feature in the case''.
Mr Taylor told the court that McCafferty was orphaned as a child and was brought up by his grandmother and had never married.
The court heard McCafferty played football in England, including a period with Millwall before returning to Scotland where he "worked for Celtic before moving on to Hibernia as a kitman''.
It was during this time in Edinburgh that he took up a coaching post with an amateur club which had forged links with a local club in Belfast who would come over to Scotland to play tournaments.
In a pre-sentence report, McCafferty admitted being "attracted to both sexes'' but denied his behaviour towards the victim was motivated by "sexual attraction''.
He described it as "messing about, a joke, a bit of fun'', motivated more by "curiosity'' and denied pre-meditation and continues to deny that his motivation was for "sexual gratification''.
According to the report, McCafferty "minimised the suffering he had caused to the injured party and lacked empathy and insight into the hurt caused to the injured party and his family.''
Mr Taylor said that McCafferty had given assurances to the report's author "that he will not offend in such a way again''.
The defence barrister said that he had received instructions from McCafferty to "offer an unreserved apology for the hurt he has caused to the injured party and his family''.
"It is inevitable that a custodial sentence will be attached given the breach of trust as a result of the age difference between the defendant and the injured party.''
Adjourning sentencing for two months, Judge Patricia Smyth said: "This is a complex sentencing exercise and there are a number of factors I will have to take into account and I am going to reserve my sentence in this case.''
McCafferty was remanded back into custody and will also made the subject of a Sexual Offences Prevention Order.