Former priest Daniel John Curran admits child abuse charge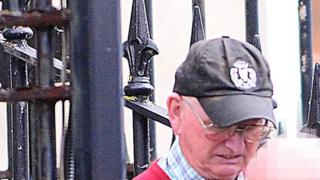 A former priest from County Down has pleaded guilty to a historical act of gross indecency with a child.
Daniel Curran, 68, of Bryansford Avenue in Newcastle will be sentenced in September, but until then he has been granted bail.
The act of gross indecency, against a boy, happened in 1991.
It is Curran's sixth conviction for abusing children. The court heard he had previously received sentences totalling 16 years.
This includes time in custody and time suspended.
At his arraignment hearing at Downpatrick Crown Court on Monday, Curran was asked to enter a plea and said: "Guilty".
Judge Piers Grant confirmed Curran would be sentenced in September and said the granting of bail should not be taken as an indication the former priest would not be jailed.
Previously, Curran was jailed at Downpatrick Crown Court in February 2012 on five counts of indecent assault.
His two victims were abused at the former clergyman's family holiday home near Tyrella, County Down during the late 1980s and early 1990s.
He had served as a priest in Belfast, taking the victims for nights away in what they thought was a chance to escape from violence in the city.
Instead they were plied with alcohol and sexually abused.