NI and Republic economies 'to add nearly 240,000 jobs'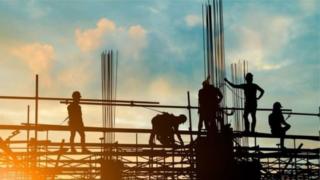 The economies of Northern Ireland and the Republic of Ireland are forecast to add almost 240,000 jobs over the next five years.
The prediction comes in a report from Neil Gibson, chief economist at the consultancy EY.
His forecast also suggests that more than 90% of those additional jobs will be in the Republic of Ireland.
It says: "The contrast between economic performance across the two jurisdictions appears wider than ever."
Both economies have had impressive labour market performances recently with the unemployment rate in Northern Ireland reaching a record low.
EY forecast that with public sector hiring recommencing, real incomes rising and global growth remaining relatively robust, "there is every reason to suggest" that employment growth will continue across a range of sectors.
Construction, public services and IT are the major drivers of growth forecast in the Republic of Ireland.
EY says that recent job growth in Northern Ireland has "been something of a surprise".
The forecast is still predicting a slowdown in job growth in Northern Ireland "reflecting a projection that real income squeezes will finally begin to bite and Brexit uncertainty will at least result in a hiring pause for many employers."