David Lee John Clark: 'Inexcusable' notes omission criticised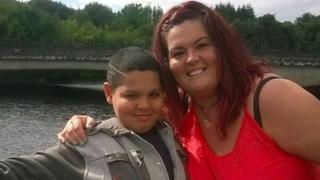 A doctor has been criticised for the "inexcusable" omission of notes in the care 10-year-old boy who died after bowel surgery.
David Lee John Clark, who had a learning difficulty and autism, needed surgery to treat severe constipation.
He died in 2015 from blood loss caused by a severe infection.
At an inquest, the coroner found that the child had received appropriate medical care but criticised one of the doctors that treated him.
Patrick McGurgan, the coroner, said that Dr Damien Maguire, who is based at the Royal Belfast Hospital for Sick Children, had been an "unconvincing witness" who had given mixed messages to the family about the child's condition.
He added that the doctor had failed to include severe blood loss in the post-operative notes and that, while it would not have changed the outcome, the omission was "inexcusable".
However, Mr McGurgan said that the child had been exceptionally unlucky to develop two bowel obstructions after surgery and a severe infection, which caused his death.
The inquest also heard that the child was obese, which witnesses told the inquest had an impact on his condition but was not a direct cause of his death.
Mr McGurgan said there were lessons to be learned by the Belfast Health and Social Care Trust as a result of this case.
He said they should consider an outreach education programme to highlight the dangers of obesity to parents and professionals.
'Hellish choice'
The child's mother Leanne was praised for her dignity throughout the inquest.
She was too upset to be interviewed after the hearing but released a statement through her solicitor, which said she hoped treatment of autistic children in Northern Ireland would improve.
"Obesity was not the cause of my son's death.
"The only impact of obesity to Dee Dee's (David Lee's) treatment was that it made his surgery on 10 December 2014 more challenging and increased his risk of infection - nothing more," she said in the statement.
"The coroner's plans for an outreach programme have to be seen in the context of autism. A common drug in the treatment of autism is Risperitone, it helped Dee Dee become a lovely bright, bouncy boy who was loved by all of those who met him.
"A recognised side effect of Risperitone is massive weight gain in the region of two to three stone.
"It is a hellish choice for any parent to make."
She added: "My hope is that the treatment of autistic children will improve Northern Ireland. Nothing can bring Dee Dee back but I just hope his case in which he fought so hard can have a positive and long lasting impact."