Presbyterian clerk denies ministers are being silenced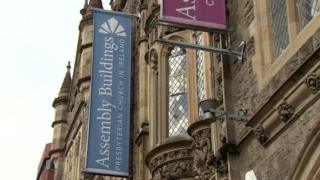 The clerk of the Presbyterian Church in Ireland (PCI) has denied that ministers are being silenced after they were warned against making "public comments" that might bring the church "into disrepute".
The warning came in a letter from Trevor Gribben last week.
It followed a special meeting of the General Council on Thursday.
Mr Gribben said "people are free to debate in public, it is the nature of that discourse that is important".
"When we speak about one another and to one another, particularly as Christians, we need to do that in courteous and constructive ways," the clerk of the general assembly told BBC Radio Ulster's Sunday Sequence.
"There is such a thing as constructive debate, there is also such a thing, sadly, as destructive debate.
"Sometimes when we pick up the wrong end of the stick, or perhaps even for some out with the church, maybe even some within the church, who want to misrepresent or over emphasise particular aspects of the church's view, that can be incredibly harmful.
"There are proper processes and ways to discuss this in the church."
In June, the PCI adopted a new policy that means anyone in a same-sex relationship cannot be a full member of the Church.
It also means their children cannot be baptised.
While many ministers have expressed their agreement with the decision of the General Assembly, a number of politicians, ex-clergymen and church members have spoken out against the decision.