Man taken to hospital after car set on fire in Londonderry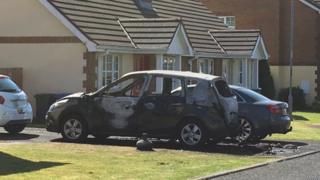 A man has been injured after a car was set alight outside a house in Londonderry.
Police believe a gas cylinder had been placed in the vehicle and that a petrol bomb was also thrown at the house in the Sevenoaks area of the city.
A number of residents who were moved from their homes have been allowed to return.
PSNI Det Sgt Brian Reid said the man was injured while attempting to extinguish the fire in the car.
The man was taken to Altnagelvin Hospital for treatment to his injuries which are not believed to be life-threatening.
Police are working to establish a motive for the attack which was reported shortly after 03:30 BST on Sunday.
Det Sgt Reid appealed for anyone with information to come forward.
The deputy mayor of Derry, Derek Hussey, said the attack had brought disruption to the lives of innocent people.
The Ulster Unionist councillor said: "The entire community wants to live in peace and has a right to do so.
"Once again, faceless individuals have conspired to bring disruption to the lives of innocent people and caused them to have to leave their homes," he said.
DUP councillor Graham Warke said he had received phone calls from residents at about 05:00 BST on Sunday who had been told to leave their homes by police.
"It is bad for people to get a knock from police in the morning to move out," he said.
He said about 15 people were temporarily housed in the Foyle Arena.
Sinn Féin councillor Christopher Jackson said the incident "must be very upsetting for anyone caught up in this".