Londonderry: Warehouse fire operation to continue for hours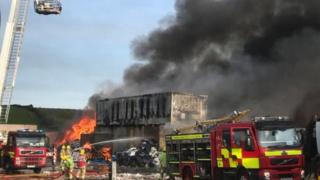 An operation to tackle a fire at a shed containing waste material in Londonderry is expected to continue into Monday.
The Northern Ireland Fire Service was dispatched to a property on the Heather Road at 17:48 BST on Saturday.
A spokesperson said the blaze involved "a large shed containing large volumes of waste material".
At the height of the blaze there were 58 fire personnel involved. Motorists were advised to stay out of the area.
By Sunday afternoon, the fire had been burning for more than 20 hours.
Anyone living in the vicinity of the plant was also asked to keep their windows and doors closed.
The Fire Service group commander, William Johnston, said the operation was being conducted from outside the premises because of the concerns over the safety of fire fighters.
"We have done that throughout the night and have dealt with a large proportion of the fire.
"But because of the deep seated nature of the fire it will be an ongoing incident," he said.
The fire service said on Sunday morning it was still tackling the blaze, but with about 40 fire officers.