Oxford University hosts summer school aimed at NI students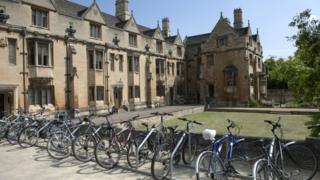 Oxford University is reaching out to students in Northern Ireland to attend a summer school in a bid to increase the number of applications.
Currently just 1.2% of all UK applications are from Northern Ireland.
New College and St Catherine's College will run a summer school from Sunday 24 June until Wednesday 27 June.
The summer school is aimed at students and teachers from Northern Ireland in an attempt to show what the university can offer.
It is an annual event and this year 89 students and teachers - including 19 students from schools in Belfast - will be attending.
'Challenge is perceptual'
The summer schools are taking place in the same week as the university hosts its open days, due to be held on Wednesday and Thursday.
The sessions will be held by university tutors, admissions staff and Northern Irish students currently studying at the institution.
Miles Young, Warden of New College, said: "For Northern Irish students, the biggest challenge in coming to Oxford is perceptual. They don't think it is for them.
"We have found that the summer schools have a dramatic impact on perceptions. Those who come change their view completely.
"They experience the real Oxford, they live in college, they meet current students, they interact with tutors, and many of them apply and get accepted."
'We thrive here'
Conleth Burns, from Armoy, attended the summer school in June 2015.
He is now a is a second-year law student at New College and is involved in this year's summer school.
He said: "On the trip over to Oxford, I had made a list in my head of reasons why I wouldn't or couldn't apply.
"When I arrived in New College, each one of the myths that I believed about Oxford began to be debunked and dismissed, one by one.
"I left with the clear message that there was a place for me here."
Mr Burns said that he can say "with absolutely certainty that we thrive here".
"As a Northern Irish student in Oxford, you will diversify this place. You will bring much-needed new ideas and perspectives to this 800-year-old institution.
"Our accents are instantly recognisable so it's very easy to find Northern Irish people in the middle of a crowd," he added.