Angry reaction to NI's loss of 2021 Commonwealth Youth Games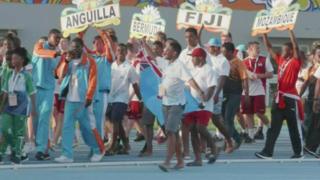 There is widespread anger and disappointment after Northern Ireland lost the right to stage an international sporting tournament.
Belfast was due to host the 2021 Commonwealth Youth Games but its successful bid has been overturned due to a failure to approve funding.
The decision was taken by civil servants, who have been running Northern Ireland since the devolved government collapsed in 2017.
They said they had "significant concerns about affordability" and said reviews of the business case found it was not value for money.
On Friday, the Commonwealth Games Federation (CGF) invited other cities to submit new bids to host the 2021 games.
The Northern Ireland Commonwealth Games Council (NICGC):
"This decision is a slap in the face for our young people. The Youth Games would have brought nearly 2000 of the world's finest young athletes to Northern Ireland to compete in more than 20 sports.
"A legacy plan involving sport, volunteering, culture, integration, social cohesion, education and health has been discarded... and the decision making sends a strong message to the international community that Northern Ireland is closed for business."
Ulster Unionist Party MLA Mike Nesbitt:
"Ultimately, this is about political failure. No one can be in any doubt the support was there for staging these games, as evidenced by the unanimous backing when the idea was debated in the [Northern Ireland] Assembly. Had there been an executive, I am entirely confident the funds would have been approved.
"So, the Commonwealth Youth Games becomes the latest victim of our collective inability to find a way to share this piece of planet Earth, with the consequent reputational damage for Northern Ireland and the United Kingdom.
SDLP Sports and Communities Spokesperson Justin McNulty:
"What we are seeing now is the manifestation of our political impasse, and what's worrying, is that this is only the beginning.
"It is imperative that this news invokes a sense of urgency around the restoration of devolved government to ensure fantastic opportunities like this will never again be missed."
Alliance Party MLA Chris Lyttle:
"Those who continue to engage in the ongoing political impasse can now add the loss of the 2021 Commonwealth Youth Games to their growing list of crises."
"These games would have showcased this region on a global scale, while inspiring an entire generation. The failure to host them lies firmly at the feet of those parties who made up the previous Executive."
Democratic Unionist Party MLA Carla Lockhart:
"The announcement that Northern Ireland will not host the Commonwealth Youth Games is a direct consequence of the decision by some to pull down devolution and then block its restoration.
The decision to proceed would have required approval from the Executive but this was not possible because of Sinn Féin's cynical decision to collapse Stormont. This major event and a boost for youth sport in Northern Ireland has been the casualty of Sinn Féin's narrow agenda.
Former Labour sports minister, Kate Hoey MP:
"It's absolutely shameful and I think we want to see that report [the review of the business case]. It's been paid for by public money, let's have it out in the open.
"There's been no transparency and the departments in Northern Ireland have all worked as little silos and it's quite outrageous... in my view the time is really right for formal direct rule [from Westminster]."
Former world champion rower, Joel Cassells:
"This is devastating. An opportunity to bring NI together, watching young promising athletes compete, is now lost. Time for our leaders to stand up and act."
Northern Ireland Department for the Economy spokesperson:
"The business case for hosting the 2021 Commonwealth Youth Games has been through a lengthy approval process on two separate occasions and on each occasion it has been concluded that funding for the event does not represent value for money... there were significant concerns about affordability, limited monetary benefit and insufficient evidence of non-monetary benefits.
"While this is a disappointing outcome for the NI Commonwealth Youth Games Council, without a clear demonstration of value for money there is no basis for an accounting officer to offer financial support for the games unless they were formally directed to do so by their minister."