Dunmurry Manor: Care home 'allowed to investigate itself'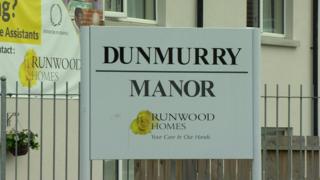 An expert who investigated Dunmurry Manor has said it is "disturbing" that a health trust was left to determine if a crime had occurred.
The BBC's Nolan Show discovered that in 2016 a worker told police residents were being locked inside their rooms.
Police recorded a crime number, but did not gather evidence, instead referring the matter to the South Eastern Trust.
The trust then referred the matter to the home. The PSNI said it did not allow the home to investigate itself.
'Unsafe'
The programme has a review report compiled by health care professionals in respect of resident Annie McCourt.
One of its conclusions states: "The PSNI on 8 September 2016 agreed with Dunmurry Manor that they were satisfied for Dunmurry to investigate the issue internally."
Prof John Williams was one of a panel of experts who helped compile a report into the home for Northern Ireland's commissioner for older people after an investigation, which found a "horrific catalogue of inhuman and degrading treatment".
"That sounds very unsafe to me," he said.
"I think it illustrates in a very tragic way what the commissioner found in his report into Dunmurry. There is a real blurring of who has responsibility to do what and that ends up with a situation where Dunmurry can basically investigate itself."
He added: "You can bounce these things back from one authority, one care home, to another and nobody takes any responsibility for making sure that enquiries and investigations take place."
He said the police had a "critical role".
"If we don't take reports of abuse and neglect of older people seriously, if they're not prosecuted or not even investigated, then we are sending out the message that actually this sort of thing is acceptable."
But PSNI Supt Ryan Henderson said the police did not allow the home to investigate itself.
He said that under a joint protocol, when there are allegations of abuse or neglect of vulnerable adults or children, police officers will work with health care professionals.
"Where it's not clear at the start what actually has happened, or whether a crime has occurred, the joint protocol is very clear that in some circumstances the most appropriate people to make an initial assessment of what has happened are health care professionals who are well-trained," Supt Henderson said.
"The [South Eastern] trust informed us that they had conducted an investigation into it and that there were no criminal concerns, there was no criminal evidence.
"There was no police investigation into this case, because having had the assessment of our partners, our colleagues within social work who conducted a robust investigation into it, they said there was nothing of a criminal nature within it."
He said police had recommended prosecution over a different allegation raised by the commissioner's report.
In a statement, the South Eastern Trust said: "We are clear that a team under the South Eastern Trust's adult safeguarding arrangement went into Dunmurry Manor to investigate the allegation that clients had been locked in their rooms.
"Our team ascertained that it was physically impossible to lock clients in, so they were able to report back to the PSNI that there was no substance to this allegation."
However, Prof Williams said it should be up to police to decide whether any criminal offence had taken place.
"The idea behind a joint protocol is that you have a pool of expertise and the experts at investigating whether or not a criminal offence has been committed are the police," he said.
The family and supporters of former resident Mrs McCourt have said they will not rest until those involved in what they claim is her mistreatment are brought to justice.
The commissioner for older people's report criticised the regulatory body, the RQIA, for not taking sufficient action following complaints at the home.
The RQIA denied it had failed to properly investigate.
On Friday, Mrs McCourt's family took their protest to the RQIA offices.