No-deal Brexit plans discussed at British Irish Council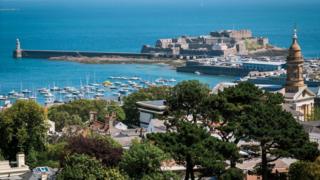 Ireland is to step up preparations for a no-deal Brexit, the country's prime minister (taoiseach) has said.
Leo Varadkar was speaking at a meeting of the British Irish Council in Guernsey on Friday.
Northern Ireland Secretary Karen Bradley and the first ministers of Scotland and Wales are also at the summit.
It is the 30th meeting of the body, which was set up under the 1998 Good Friday Agreement.
The marine environment is listed as the main topic for discussion, but Brexit was also discussed ahead of next week's EU summit in Brussels.
'Prepared'
Mr Varadkar said: "We have made some good progress to date and I think it will be possible to come to a withdrawal agreement that works for everyone.
"But we also need to be prepared for the possibility that that will not happen.
"All EU countries will be stepping up preparations for all possible scenarios, including a no-deal Brexit."
It is the the fourth time the summit has been held in Guernsey.
Mr Varadkar held bilateral discussions with Scottish First Minister Nicola Sturgeon and Welsh First Minister Carwyn Jones.
British Cabinet Office Minister David Lidington also attended.
Analysis: Northern Ireland politicians absent
Gareth Gordon, BBC NI political correspondent
The British Irish Council was set up under the Good Friday Agreement.
Its sister organisation was the North-South Ministerial Council, which was made up of ministers from the Northern Ireland Executive and ministers from the Irish government. For obvious reasons, that has not met since just before the collapse of Stormont.
Once again, the Northern Ireland parties will be absent at the British Irish Council due to the collapse of Stormont.
The main topic for discussion is meant to be the marine environment, but Brexit is bound to loom large, especially ahead of of next week's EU summit in Brussels.
The taoiseach did not make the summit dinner last night because had business in Dublin with European Commission President Jean-Claude Juncker. Instead, he flew in this morning.
Mr Varadkar reiterated yesterday that Ireland expects Britain to honour its commitments and have no hard border.
The Irish government issued a statement last night saying Mr Varadkar's meetings with the Scottish first minister and Welsh first minister will focus on the implications of Brexit.
The council will also talk about the political situation in Northern Ireland and Mr Varadkar is expected to reiterate his regret that no Northern Ireland ministers are at the British-Irish Council summit.
The border question
The meeting coincides with European Commission President Jean-Claude Juncker's two-day visit to Ireland.
On Thursday, Mr Junker said that Ireland is not alone in Brexit negotiations and will remain backed by all member states.
"This is not a bilateral question between Ireland the United Kingdom - this is an issue between the UK and the European Union," he said.
"We want to make it clear again and again that Ireland is not alone.
"We have Ireland backed by 26 member states and the commission - this will not change.
"I am strongly against any temptation to isolate Ireland and not to conclude the deal on Ireland.
"Ireland has to be part of the deal."
On Friday, he will also meet Irish President Michael D Higgins and visit the home of the Gaelic Athletic Association (GAA), Croke Park, and the GAA museum.
He will also watch a demonstration of Gaelic football and hurling.