On-the-run Michael McIlveen killer arrested in Antrim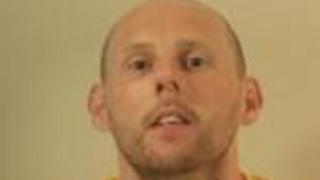 A convicted killer serving a life sentence for the murder of a schoolboy 12 years ago has been arrested in County Antrim after going on-the-run.
Christopher Kerr, 32, was convicted of the murder of fifteen-year-old Michael McIlveen in Ballymena in 2006.
He absconded from custody in Belfast City Centre while on accompanied temporary release but was arrested in Antrim on Thursday.
Police had described him as dangerous and that he should not be approached.
A spokesperson for the Northern Ireland Prison Service said it would "investigate the circumstances" of the abscondment.
Fifteen-year-old Michael McIlveen died from brain injuries the day after he and two friends were attacked in 2006.
Aaron Cavana Wallace, 24, from Moat Road, was also sentenced to serve eight years for his murder.