Lisburn runaway bus death driver sentencing adjourned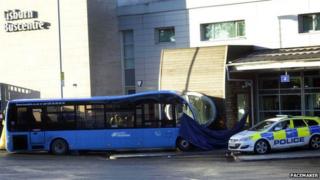 A mother-of-four was crushed to death by a runaway bus because the driver wanted to keep it warm for passengers, a court has heard.
In May, James Johnston, of Killowen Grange in Lisburn, pleaded guilty to the manslaughter of Charlotte Linda Stewart, who died in 2014.
He was due to stand trial but changed his plea.
Ms Stewart, 48, was hit by a bus which mounted a kerb and hit a wall in the grounds of Lisburn bus centre.
Craigavon Crown Court heard that seconds after Johnston, 35, got off his bus at Lisburn station, it shot forward up and over the kerb, pinning Ms Stewart between the bus and a wall.
Prosecuting QC Charles MacCreanor told the court that as a result of her injuries "unconsciousness would've happened rapidly and death shortly thereafter."
Mr MacCreanor also submitted that Johnston had tried to cover up how he caused the accident.
"The defendant has accepted his gross negligence in respect of this case by his plea and that acceptance of responsibility is important and it's important to the family but the court should remember that it came very late in the day," he said.
Johnston's defence lawyer described it as "an appalling tragedy."
He submitted it arose from "a confluence of a considerable number of circumstances".
He said Johnston, who had been a bus driver for ten years, "had already paid a heavy penalty" in that he now suffered from depression and has been diagnosed with post traumatic stress disorder (PTSD).
'Decent, hard working ordinary man'
He also highlighted evidence that as Mrs Stewart was being attended to, Johnston was "literally lying on the ground convulsed and crying" and that during his police interviews, an officer commented on his emotional and distressed state.
Describing Johnston as a "decent, hard working ordinary man," he said the sole purpose of keeping the bus running "was to keep the bus warm so that his passengers would be warm" on that winter day.
As well as references provided to the judge, the defence called two character witnesses to give evidence - Robbie Butler UUP MLA and fellow bus driver Derek Moffett, who witnessed the tragedy.
Mr Butler gave evidence that he had known Johnston since the defendant was five years old and that he held him "in high esteem".
As well as recounting the "harrowing" events of 29 December, Mr Moffett recalled an incident where Johnston stopped his bus when he saw a woman being "savagely beaten" by a man.
His defence conceded that Johnston's actions were wrong but that the case was an exceptional one given its circumstances.
Freeing Johnston on continuing bail the judge adjourned passing sentence to next Friday.