Brexit planning sees Shannon firm Eirtech expand in Belfast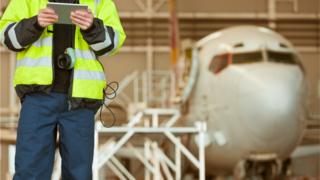 An Irish company will set up a Belfast base and create 124 jobs to "future-proof" the UK part of its business against a hard Brexit.
Eirtech Aviation Services is a manufacturing and aircraft repair firm headquartered in Shannon, County Clare.
It is the second company from the Republic of Ireland to recently expand north ahead of the UK's withdrawal from the European Union.
In May, IT firm Teamwork.com said it would hire 100 staff in Belfast.
Eirtech's new facility is at Queen's Road and will offer its customers a centre located in the UK that repairs composite parts on commercial aircraft.
'World class'
Ten posts are already in place - the others will be created over the next four years.
"This Belfast facility is part of our strategy to future proof the business, ensuring we have access to the GB marketplace post-Brexit," said chief executive David Kerr.
"Northern Ireland has an abundance of people with world-class manufacturing capabilities and a strong aerospace cluster making it an ideal location for our UK composite repair centre."
Invest NI said the jobs would pay combined salaries of £4.3m annually.
It is offering grants support of £992,000.