Raymond Johnston murder: Police blame dissident republicans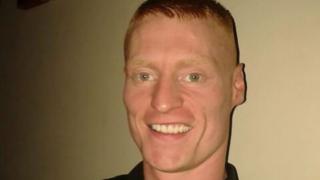 The dissident republican group Arm na Poblachta (army of the republic) was behind the murder of a man in west Belfast in February, police believe.
Raymond Johnston was shot in the chest at his Glenbawn Avenue home in Poleglass.
The 28-year-old's partner and her 11-year-old child were in the house at the time.
Nobody has been charged with his murder.
CCTV footage captured outside Mr Johnston's house shows two hooded men making their way inside.
One of the men is carrying a shotgun.
They are then seen running away, after shooting Mr Johnston in the chest.
"Raymond's family, his daughter, his partner and her daughter, have been left devastated," said PSNI Det Supt John McVea.
"The trauma of witnessing such a cold, clinical and calculated killing will be etched on their memories for the rest of their lives. They didn't deserve this, nor did Raymond."
The police said their investigation so far has led to the naming of the group.
"We believe Arm na Poblachta has origins in criminality and was directly involved in and responsible for Raymond's murder," Det Supt McVea told a press conference.
Terror links
Arm na Poblachta is believed to be connected to former Royal Marine Ciaran Maxwell.
Maxwell, from Larne, was jailed in 2017 for 18 years after admitting a series of terror charges. Police found 43 weapons hides after they arrested him.
Previous explosive finds and a device found on the Pantridge Road in Belfast last October, which police believe was designed to kill officers, are also linked to the group.
Police said they are keeping an open mind about the motive for Mr Johnston's murder.
Six arrests have been made as part of the investigation. No charges have been brought.
"No matter what the motive is, there is no justification for this brutal murder," said Det Supt McVea.
"The gunmen deliberately planned and carried out this brazen murder. We need to take them off the streets."
Police believe the community holds the information which could lead to finding those responsible.