RHI inquiry: Key meeting driven by unelected adviser, not minister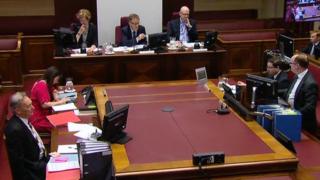 A key meeting that led to a disastrous delay in RHI cost controls was driven by an unelected adviser, not his minister, the public inquiry has been told.
The decision to push back introducing subsidy cuts by a month was taken at a 15 minute meeting on 24 August 2015.
The extra four weeks allowed a further 800 boilers to be accredited to the scheme.
This added a massive sum to the overall cost.
The RHI (Renewable Heat Incentive) scheme was established to encourage uptake of eco-friendly heat systems over the use of fossil fuels.
DUP special advisor
An overgenerous offer of fuel subsidies meant it could cost taxpayers an extra £490m.
An independent inquiry into the RHI scandal was established in January 2017.
The inquiry heard the idea for a one month delay to early November was at the behest of DUP SPAD Timothy Cairns even though his minister Jonathan Bell was in the room.
Inquiry chair Sir Patrick Coghlin asked what role Mr Bell had played in the short meeting.
"The meeting is addressed by Timothy Cairns who tells you what the amendment would be and the minister is sitting there nodding, is that it?" Sir Patrick asked.
Witness John Mills, the head of Energy Division, who was at the meeting replied.
"Nodding sounds prejorative but I don't dissent from your explanation," Mr Mills told him.
Degree of reluctance
Sir Patrick expressed surprise saying whatever Mr Cairn's political importance as adviser he was not the "democratically elected minister".
Earlier Mr Mills said his impression was that there was a degree of reluctance on Mr Cairn's part to get on with the cost controls.
He'd asked officials for a position paper to, in Mr Mills' words "help convince those I need to convince".
Mr Mills said he'd interpreted this as people within the DUP who needed to be sold on the idea of cost controls.
He later said Arlene Foster's then SPAD Andrew Crawford was one of those he believed had a lot of influence around decisions in the department, even though he'd left it months earlier.
Mr Mills said his recollection of the meeting at which the delay was agreed was that Mr Cairns did most of the talking.
Mr Mills said neither he, nor the then permanent secretary of the department Andrew McCormick had resisted the idea.
Should have been leading and helping
He said there'd already been a six week delay in getting a ministerial decision on a problem that needed "urgent" attention.
As such he viewed the extra four weeks before cost controls would begin as a "concession" worth agreeing to.
"At the end of the day it shouldn't have been a negotiation between civil servants and ministers to do the right thing," he said.
"They should have been leading and helping".
Later Mr Mills detailed the dying days of the scheme as officials rushed to shut it down and industry inundated his department with calls about its future.
He said by the end so much information was leaking out officials were getting calls telling them what was going to happen - rather than the other way round.
He said there was no information sharing going on by officials at this stage and he assumed word was being passed around by SPADs about the date of the impending closure in February 2016.
The inquiry heard about a submission sent to Minister Bell on procedures for closure on 19 January 2016.
It was approved by Mr Bell but within 20 minutes Mr Mills was told by Timothy Cairns the decision had been rescinded and was in the hands of DUP officials.
'Pretty serious matter'
Sir Patrick said on the face of it, it seemed that the decision of an executive minister had been "removed from him and was being dealt with by some unnamed party officers".
He said if that was the case it was a "pretty serious matter".
RHI Inquiry counsel, David Scoffield QC, said the submission had set out a path to closure including public consultation, assembly committee scrutiny and executive approval that would have seen closure in early to mid March.
Instead the process was accelerated with an original closure date of February 15th - later extended by a fortnight to facilitate last minute applications from those who'd been close to completion.
Three hundred and eighteen boilers were accredited to the scheme in February - although they only qualified for the less lucrative tiered tariff that had been introduced four months earlier.
'Stark warning'
Earlier in the day John Mills was accused of "hiding" the financial implications of an RHI overspend from the Stormont minister in charge of the scheme.
John Mills made changes to advice being sent to DUP minister Jonathan Bell.
The head of Energy Division removed a "stark" warning about how much the scheme was costing and the potential impact on the departmental budget.
However, he denied trying to "cover up" saying there was no clarity around the budget position.
At the inquiry on Thursday, Mr Mills rejected allegations of a "cover up".