David Black killing: Family devastated at trial collapse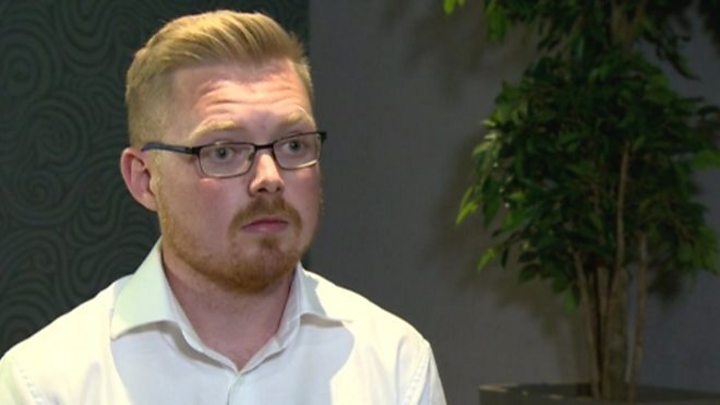 Kyle Black, son of the murdered prison officer David Black, said his family is "devastated" over the collapse of Thursday's trial.
Damien McLaughlin was on trial for aiding and abetting the murder of Mr Black.
The prison officer was shot and killed on the M1 as he drove to work in November 2012.
The judge directed not guilty verdicts in the absence of further evidence from the prosecution.
Video interviews carried out by gardaí (Irish police) were criticised by the judge in the trial.
An Garda Síochána has confirmed that its assistant commissioner special crime operations has been appointed to conduct a fact-finding exercise into the circumstances, from its perspective, that led to the collapse of the trial.
In an interview with the BBC, Kyle Black said that the family always hoped someone would be held to account for his father's death.
Kyle, his mother and other family members were in court when the trial of Mr McLaughlin - the only person charged in connection with the murder - collapsed.
"It's been a long five and a half years since dad was killed, and since then we felt at some stage someone was going to be held to account and that there would be a trial," he said.
"We have been preparing for that trial for five and a half years, so for it to collapse like this is very difficult to take."
But the family has not given up hope that those involved in the killing will at some stage been convicted, and have appealed to anyone with information to contact the police.
"As a family, we hope and pray that there will be individuals, because we know there's a lot of individuals that have been involved in the murder, that they are brought to justice and held to account for what they did," said Kyle.
"But as a family we also realise that the more time that passes, the likelihood of that becoming a reality becomes less and less.
"The fact that he was murdered simply for the job that he did is just so wrong, and there are individuals out there that do have information that could help us and help dad to get the justice that we and he deserve."
'Numb'
Kyle Black drove past the spot where his father was killed just moments after he was shot from a passing car on the M1 motorway, but didn't know it.
He was travelling to work in Belfast while his father had been travelling to Northern Ireland's high security Maghaberry prison near Lisburn.
"I remember going down the motorway that morning and seeing some commotion at the side of the motorway, but dad's car wasn't visible," he recalled.
"I got into work in Belfast and I happened just to log on to Facebook and I seen that a prison officer had been shot on the M1.
"Straight away I began to worry because I knew that was the route dad travelled to work and I rung mum from work and asked her if she had spoken to dad.
"She said she hadn't and I told her what I had seen on Facebook, that a prison officer had been shot. Mum said to me 'Kyle, look this is awful, but this isn't your dad. Go you and try and get dad and speak to the police and I'll ring the prison.'"
Kyle was waiting on a response from the police when his manager asked him to follow her.
He was taken to meet two police officers who told him his father was dead.
"I felt absolutely numb," he says.
"With the job that dad did we knew there were risks, but at the same time because we're now meant to be living in a more peaceful society, we never dreamt that something like this would happen now.
"We just couldn't believe it. Not only was dad no longer with us, just the manner he was taken from us, that there were individuals out there that felt they had the right to take our dad, husband, and brother and son from us in the way that they did."