Company behind proposed Tyrone goldmine goes private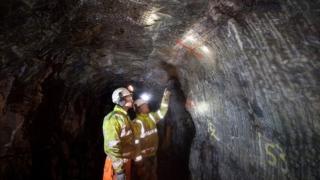 The major shareholders in Dalradian Gold, which owns the Curraghinalt mine in Tyrone, are taking the business private.
It is currently listed on the AIM stock exchange.
Orion Mine Finance, a New York-based private equity group, will acquire 80% of the company's shares.
The acquired shares exclude those held by certain members of the senior management team and Osisko Gold Royalties, a mining company.
In a statement, Dalradian's chief Patrick Anderson said: "Orion and Osisko are showing great confidence in Northern Ireland, their high grade Curraghinalt project and our West Tyrone workforce."
"One of the best gold projects on the planet"
Last year, Dalradian Gold submitted a planning application to operate a major gold mine in Tyrone for 25 years, supporting 350 jobs.
The 10,000-page application is one of the biggest ever lodged and is controversial, with opposition to the mine on environmental grounds.
The move comes after seven years of exploratory work by Canadian firm Dalradian in an area of the Sperrin mountains near Greencastle.
It said the mine would be "economically transformative" for County Tyrone.
Described as "one of the best gold projects on the planet", the area is said to hold $4bn (£3bn) worth of deposits.
Opposition from environmentalists
The cost of developing the mine is £125m and, if permitted, would involve unearthing 1,500 tonnes of rock a day from underground tunnels.
A diluted cyanide solution would be used to separate tiny gold particles from a portion of the crushed ore.
It could take up to two years for a planning decision to come from the Department for Infrastructure
However, environmental groups will fight the application.
The process will likely involve a public inquiry.