Northern Ireland set for Mediterranean temperatures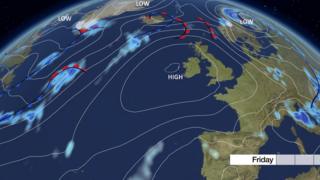 Temperatures in parts of Ireland in the coming week will be just as high as parts of Spain, Italy, and France as warm air moves in from the mid-Atlantic.
High pressure will take a firm grip of our weather this weekend.
That should settle things down nicely, with little or no rain forecast in the next seven days.
By Sunday, we're expecting temperatures to reach the low 20s with lots of sunshine and light winds.
Temperatures are forecast to climb a few degrees higher by the time we get into Monday, matching those in some of our favourite holiday destinations.
High pressure should bring high temperatures
There will be no let-up in the heat, with warmer conditions possible from the middle of the week. Temperatures could reach the high 20s, especially around the Irish midlands.
Hay fever and sunburn
Along with the high temperatures hay fever sufferers can expect high pollen counts during the warm spell.
Strong UV rays from the sun are also forecast, increasing the risk of sunburn.
The Public Health Agency has offered advice on how to cope during the heat wave including:
Seek shade when the sun is at its strongest - generally between 11:00 - 15:00
Cover up - wear a t-shirt and a hat
Wear UV protecting sunglasses
Use at least a factor 15 sun cream with a 4* UVA protection