International futsal matches to be played in Newry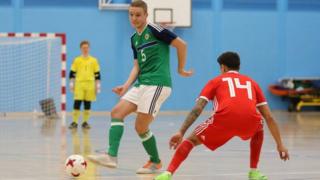 It was the game of choice for football stars Pele, Lionel Messi and Cristiano Ronaldo, and this weekend it is kicking off in Northern Ireland.
The first ever international futsal matches will be played in Newry this weekend.
Futsal is a version of five-a-side football, played by millions across the world.
Northern Ireland have played 10 internationals since 2016 but all have been away from home.
Scotland are the opponents for Friday and Saturday's games.
Many of the biggest international stars like Pele, Messi and Ronaldo played futsal in their youth and they credit the small-ball game with developing their skills.
Northern Ireland boss Jonathon Michael hopes home advantage can help his side add to their sole win at international level.
"The backroom team and the players are looking forward to playing in front of a home crowd for the first time," he said.
A different way of playing football
Rather than a traditional 11-a-side game of football, futsal has five players on each team. It is played with a small ball with 30% less bounce than the average football.
Futsal is played indoors with two 20 minute long halves. A stop clock is used and time-outs are permitted.
Futsal gets its name from the Spanish 'fútbol de sala' or Portuguese 'futebol de salão' which translates to 'lounge football' in English.
The exact origins of futsal are disputed. Argentinean coach Juan Carlos Ceriani created an indoor 11-a-side game in Montevideo in Uruguay in 1930 for local competitions in YMCAs while the first rules of a similar version of the game played in the streets in Sao Paulo were recorded in Brazil in 1936.
FIFA became the game's governing body in 1989 with the first ever FIFA Futsal World Championship being held in the Netherlands that same year.
An estimated 30 million people play worldwide with FIFA calling it "the fastest growing indoor sport in the world".
"Last time we played Scotland we felt we could have got more out of the game and didn't perform to our full potential.
"This time, we have the added incentive of playing at home and we are confident that our performance will match the atmosphere," he added.
To date, Northern Ireland have played England, Scotland and Wales, as well as Gibraltar and San Marino in the two years since making their international debut.
The Northern Ireland international team's only win at elite level came against San Marino.
Both this weekend's games kick off at Newry Leisure Centre's futsal court - the only official court in Northern Ireland - at 18:30 BST on Friday with free admission for fans.