Weekly papers: Ulster final fever, sentence outrage and brothel shock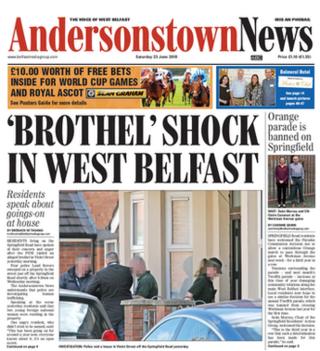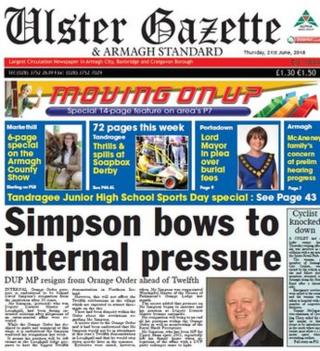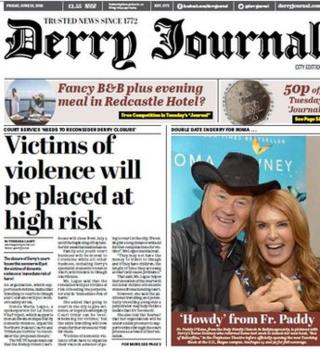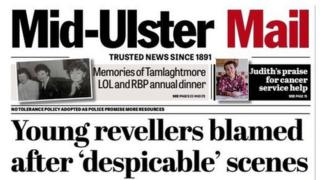 "Despicable" scenes in Cookstown, Ulster final fever in Fermanagh and "brothel shock" in west Belfast are among the story-making headlines in the weekly papers.
But we'll start in County Down, where a taxi driver whose kidnappers were jailed in recent days says he is "very disappointed" at the sentences they received.
Former GAA star Robert Tasker, 27, was sentenced to three and a half years in prison and Antoin McCooey, 25, was handed a three year sentence.
The pair were convicted of kidnapping Paul Kelly and threatening to kill him.
Mr Kelly told the Newry Reporter he thought the sentences were "extremely light".
Damaged
"McCooey is going to be out in three, and he's done nearly two months now, so that's taken off the three.
"And he can start again. I have to live with this for the rest of my life. I just feel damaged, to be honest."
Meanwhile, a play park in Newry controversially named after an IRA man could be set for closure.
The paper reports that Newry, Mourne and Down's District Council committee has recommended that Raymond McCreesh Park be shut and that another play park nearby be developed.
Raymond McCreesh was among 10 republicans who died on hunger strike in prison.
The naming of the play park after him has been controversial since it opened in 2001 and there have been numerous attempts to have it changed.
Mid-Ulster Mail
In County Tyrone, the Mid-Ulster Mail's front page reports on "despicable scenes" in Cookstown.
It says "bus loads of revellers descended on the town" last week and were "urinating in gardens, littering, banging on doors and windows and other anti-social behaviour".
More than 20 young people were "sanctioned" by police but local representatives said they would be discussing it further with the PSNI.
An Ulster Unionist councillor who witnessed what happened around Loy Street and Fairhill Road said it must not be allowed to happen again.
"This episode has to be condemned in the strongest possible terms," said Trevor Wilson.
Derry Journal
The impact of the closure of Londonderry's courthouse this summer is the lead story in the Derry Journal.
An organisation which supports victims of domestic abuse tells the Journal that travelling to courts in Omagh and Coleraine will put women's safety at risk.
Donna Maria Logue, a spokesperson for La Dolce Vita Project, said that the relocation will put victims at risk of meeting the perpetrator and in "immediate risk of harm".
Urging the Northern Ireland Courts and Tribunals Service to reconsider the proposed closure, Ms Logue added: "Victims may not have the money to travel to Omagh and if they have children, the length of time they are away at court will cause problems."
Ulster Gazette
In Armagh, the spotlight is on a DUP MP who quit the Orange Order after allegations of an extra-marital affair.
The Ulster Gazette reports that David Simpson had resigned after internal pressure from the Order.
A source close to the Orange Order told the Gazette that pressure had increased on Mr Simpson and his position as Deputy District Master became untenable.
The post will be left vacant as the Loughgall lodge prepares to host the biggest Twelfth celebration in Northern Ireland, the newspaper adds.
Elsewhere in the paper, a family says it's disappointed at the lack of progress in an inquest into their son's death.
Peter McAneney died in 2012 weeks after being admitted to Craigavon Area Hospital for an ear operation.
'Catalogue of failings'
A preliminary hearing into his death was held on Monday, but that resulted in another preliminary hearing being set for October.
Peter's mother, Jennifer, said the family have been told that "further information needs to be submitted and considered".
The family has accused the Southern Health and Social Care Trust of a "catalogue of failings" both during and after Mr McAneney's medical care.
They also criticised the trust for waiting seven months to launch an investigation into their son's death.
The trust subsequently apologised, according to the Gazette.
Impartial Reporter
Over in Fermanagh, the front page of the Impartial Reporter reflects the anticipation and excitement that surrounds Sunday's GAA Ulster Football Championship final.
The county is a hair's breadth from the opportunity to win its first Ulster title.
The paper also reports on a "shocking axe attack", in which armed masked men broke into a shop in Maguiresbridge.
It says CCTV shows the men entering the shop and knocking over displays before unsuccessfully attempting to remove an ATM.
The shop's manager, Darren McManus, said he was "shocked" at the incident.
"They didn't take anything as far as we can see. They wrecked the front of the ATM, ransacked part of the shop and the ATM is in bits," he said.
Meanwhile, forget a man and his dog, here's a story about an extremely talented boy and his dog.
Christopher Corbett, 10, along with his dog Heather, has been making a name for himself by competing with some of the most renowned dog handlers across Ireland.
"As far as we are aware, he is the only child in the country who competes at an adult level," his mother Tracy told the Impartial Reporter.
"He does all the training himself. As his parents, we have given him a few pointers, but everything he has done, he has done it himself."
Andersonstown News
"Brothel shock in west Belfast" is the headline on the front page of the Andersonstown News.
It says that residents living on the Springfield Road have spoken of their concern and anger over a police raid at an alleged brothel.
One angry resident told the newspaper: "This has been going on for around a year now, everyone knows about it - it's an open secret."
The paper says it's understood that police are investigating human trafficking.
Inside, the newspaper reports that a mother and her son have endured an "agonising five years" for a medically-adapted house.
Cathy Smyth, whose 10-year-old son Seán suffers from muscular dystrophy, said she is at her "wits end" and accused Clanmil Housing Association of "fobbing me off for five years".
She said their house is completed, but that the housing association has not yet provided a moving in date.
Clanmil said there were delays that were outside its control.
"We are doing all that we can to have our contractor complete construction as soon as possible," it said.