Newspaper review: Sex video denial; bad news for teetotallers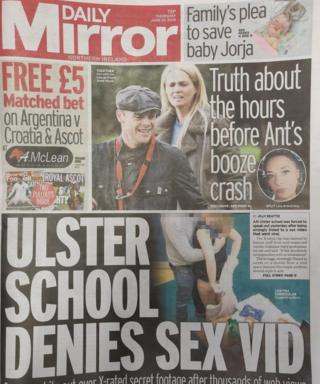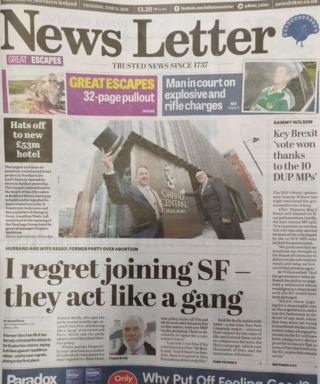 Here's what's happening in Northern Ireland's newspapers on Thursday.
Daily Mirror
"Ulster school denies sex vid" is the headline on the front page of the Daily Mirror, which reports that a school was forced to speak out after being wrongly linked to a viral sex video.
It was claimed the clip featured staff from Antrim Grammar School, but a spokesman said: "It has absolutely no connection with us whatsoever."
The statement was also issued to parents.
Elsewhere, the paper reports that the parents of a two-year-old girl with epilepsy have appealed for her to be allowed to be treated in the US or Canada.
The parents of Jorja Emerson, from Holywood, County Down, claim her only hope is travelling for treatment but that doctors in the Ulster Hospital have refused to sign a referral form.
Robbie, Jorja's father, said doctors in Boston told him she needs "treatment for epilepsy which is not available in the UK right now".
"If we wait for it to come available, Jorja could be dead," he said.
A spokeswoman for the health trust told the Daily Mirror that it has not refused to sign a referral but that the case was "outside of their clinical remit because Jorja has been referred to a specialist NHS hospital in the UK".
Belfast Telegraph
The ongoing story of Billy Caldwell and medicinal cannabis is back on the front page, with the paper reporting that his mother Charlotte has defended her role in a company that sells legal cannabis products.
Billy, 12, who has acute epilepsy, has been in the headlines after his case forced a government U-turn on the use of cannabis-based medicine.
The paper says that Mrs Caldwell is a director of Billy's Bud, a firm that sells products such as legal cannabis oil.
She said all profits from the company are used to fund her son's medical care.
A statement by the Billy Caldwell Campaign added that "anybody who is in any way critical of Charlotte Caldwell legitimately doing whatever she can to ensure Billy's wellbeing in later life should take a long, hard look at themselves."
The paper also reports potentially bad news for non-drinkers after a Queen's University study revealed teetotallers die earlier than light drinkers.
The research discovered a person's risk of developing a number of cancers is at its lowest among those who take the occasional tipple.
Andrew Kunzmann, a research fellow at the university, said the research was "surprising".
Irish News
The paper reports that Northern Ireland students are wanted by one of the UK's most famous and renowned universities.
Oxford University is making a bid to increase the number of applicants from Northern Ireland by staging a summer school here.
It is hoped those that attend will go on to apply for a place.
Miles Young, warden of New College, said Northern Ireland's young people "don't think it (Oxford) is for them".
"We have found that the summer schools have a dramatic impact on those perceptions. Those who come change their view completely," he said.
News Letter
A former Sinn Féin MLA says he regrets ever joining the party, on the front page of the News Letter.
Francie Brolly quit over the party's stance on abortion and accused Sinn Féin of behaving like a "gang" at its recent party conference.
Sinn Féin voted to change its position on abortion to support terminations within "a limited gestational period" and refused a conscience clause that would allow members to vote freely.
Mr Brolly, whose wife Anne also quit the party, said: "A person is not free if his conscience isn't free.
"If there's no freedom, there's no point in Sinn Féin talking about a republic."
Meanwhile, a two-page spread inside the paper is dedicated to the opening of Ireland's tallest hotel.
The Grand Central, a £53m project, was the vision of Sir William Hastings, the late owner of the Hastings Group.
News Letter reporter Graeme Cousins got to step inside the new hotel but said the top floor bar is not open yet but that the project is a "spectacular reimagination of a former office tower".