Commissioner's concern at response to Dunmurry Manor care home report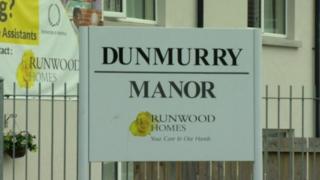 A report on an investigation into a Belfast care home has not been acknowledged by either Karen Bradley or David Sterling, NI's Commissioner for Older People has said.
The investigation into Dunmurry Manor care home looked at care and safety of residents with dementia.
The Executive Office said the report was sent to Mr Sterling, the head of the civil service, and will be addressed by the Department of Health.
The NIO has yet to respond to the BBC.
The investigation revealed many of the residents it looked at in Dunmurry Manor lived in "appalling circumstances".
'Disappointing'
Commissioner Eddie Lynch said his office is required by law to send a copy of the report to both offices.
"It is disappointing that I have not yet received acknowledgement of the report or its contents from either the secretary of state and the head of the civil service," the commissioner said.
"Implementation of the recommendations within my report remain my key priority."
Mr Lynch said that he wanted to ensure that improved care and significant change is brought about within the system.
"Until this happens, I cannot be confident that the failings found within Dunmurry Manor will never be repeated there or more widely."
In a statement to the BBC, a spokesperson for the Executive Office said: "David Sterling received a copy of the Commissioner's report into Dunmurry Manor on the day of its release.
"The report was sent to the Head of the Civil Service in the absence of an Executive. The response to this issue is being taken forward by the Department of Health."
No-one from the Northern Ireland Secretary of State's office responded to the BBC's request.
The home is owned by Runwood Care Homes, a company based in England.
At the time of its its publication last week, Mr Lynch said the report outlined a "disturbing picture where there were many significant failures in safeguarding care and treatment".
This led to many of the residents "not receiving adequate protection for prolonged periods of time".