RHI Inquiry: Plan to stop spike led to flood of applications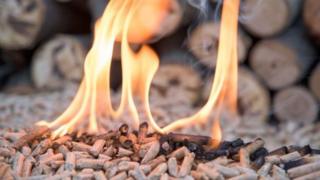 An attempt to stop an RHI boiler spike led to a flood of applications to the scheme, the public inquiry has heard.
The panel heard that the Enterprise Department got involved in informal information sharing with the biomass industry in the summer of 2015 about plans for tariff cuts.
It was done because officials feared a formal consultation could lead to an applications spike.
But the industry was sharing information about proposed cuts.
The scheme, set up in 2012, encouraged businesses to switch from fossil fuels to renewable sources to generate heat.
But in 2016, it emerged that claimants could effectively earn more money the more fuel they burned because the subsidies on offer for renewable fuels were far greater than the cost of the fuels themselves.
An independent inquiry into the RHI scandal was established in January 2017.
Almost 1000 boilers were accredited to the scheme in the three months before the cuts took effect in November.
The head of energy division John Mills said he had not had any discussion with his colleagues in the RHI branch about what they should say to biomass installers as they sought their views on the future of the scheme.
He said there had been some "naivety" about the extent of information shared by officials Stuart Wightman and Seamus Hughes.
The inquiry has already heard that they told major biomass installers and poultry giant Moy Park about upcoming changes in tariffs.
There is evidence that some installers passed the information on to other industry contacts and potential customers driving the demand for boilers which would be eligible for the more generous subsidy.
Mr Mills said policy development always involved some contact with industry.
Guilty of naivety
He said the RHI experience showed the "conundrum" at the heart of such contact.
"The people who know are frequently the people who you don't want to know.
There are all sorts of arguments that you don't get something for nothing in consultation with people."
Asked whether he too had been guilty of naivety Mr Mills said he had not been the one fielding the phone calls.
He said he believed they were walking a fine line between consulting with the industry to prevent legal challenge to the policy proposals, and telling them too much.
Mr Mills said there should also have been less scheme promotion in the summer of 2015 when officials already knew the forecast spend for 2015/16 was twice the available budget.