Personal debt levels in Northern Ireland 'highest in UK'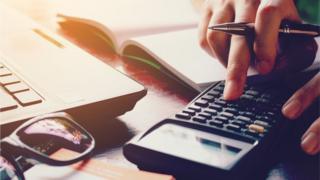 Personal debt in Northern Ireland - excluding mortgages - is higher than any other part of the UK.
Adults in the region owe £3,990 on average in unsecured debt, according to new research by the Financial Conduct Authority (FCA).
The figure is £670 more than the national average.
The FCA's 2017 Financial Lives Survey also found Northern Ireland has a lower proportion of savers.
The survey sampled the circumstances of 13,000 people across the UK.
About two-thirds of people (67%) said they had either no cash savings at all, or less than £5,000 put aside.
'Vulnerable'
The survey also suggests a greater proportion of people in Northern Ireland than anywhere else are considered "potentially vulnerable" due to their financial circumstances.
Fifty-six percent said they could cover their living expenses for less than a week if the main source of household income was lost.
The UK average is 50%.
The FCA is the UK's financial regulator.
Its survey also found consumers in rural areas of the UK are far less likely to use their smartphones for banking than their urban counterparts.
An older population and patchy broadband and mobile coverage are cited as being among the reasons.