Billy Caldwell: Campaigner's company sells cannabis oil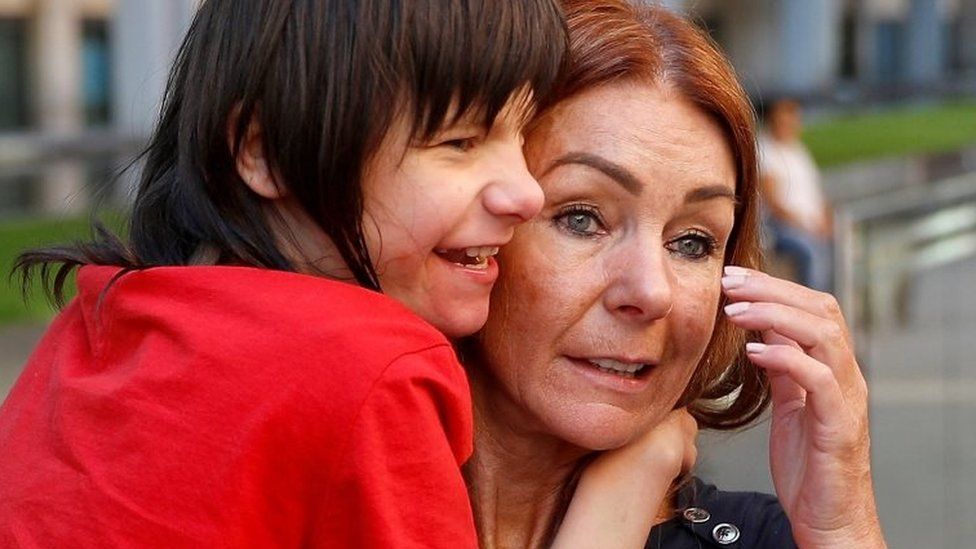 A mother who has been campaigning for a law change on medicinal cannabis is the director of a company that sells legal cannabis oil.
Charlotte Caldwell has been treating her severely epileptic son Billy, 12, with cannabis oil since 2016.
His most recent supply was confiscated at Heathrow Airport. It was returned to him after doctors made clear it was a "medical emergency".
Ms Caldwell, from County Tyrone, is the director of the company Billy's Bud.
Incorporated in June 2017, it sells a type of cannabis oil - CBD - which is legal in the UK.
Billy currently takes cannabis oil that contains the compound tetrahydrocannabinolic acid (THCA), which is illegal in the UK due to its association with the psychoactive effects of cannabis.
A post on the Billy's Bud Facebook page in December marked "Attention!" read: "The CBD oil that we carry is 100% legal! It is from the hemp plant and does NOT contain THC!
"There are lots of people who have been confused about that and we want to set the record straight. We are NOT doing anything illegal! Please do your own research and feel free to ask questions."
A post in November, listed a 30ml/300mg bottle of oil on sale for £49.95.
A spokesman for Ms Caldwell said profits from sales of the cannabis products - which include oils, capsules, powder, gummies, shots and honey sticks - were used to fund Billy's 24-7 healthcare needs, the Daily Telegraph reported.
In a statement to the BBC, the spokesman said that the products on sale could be purchased on the High Street, "although those available on Billy's Bud are of the highest possible quality".
"Cannabis oil medication with the higher concentration of THC will only be available after assessment of individuals by the government's expert panel of clinicians currently being set up, and not through retail channels in the UK," he said.
"It is vital that there is a clear understanding of the difference. It would take vast volumes of cannabis oil with THC to have any psychoactive effect."
The spokesman added that anybody who is critical of Ms Caldwell "legitimately doing whatever she can to ensure Billy's wellbeing in later life" should take "a long, hard look at themselves".
Billy Caldwell was taken to hospital last week in what his mother said was a life-threatening condition.
It followed the confiscation at Heathrow of the cannabis oil which Ms Caldwell had been attempting to bring into the UK from Canada.
Billy had been suffering as many as 100 seizures a day before being prescribed the cannabis oil containing THCA by a doctor in Northern Ireland.
His mother said he had been free of seizures for about 300 days due to the treatment, but the Home Office recently ordered the doctor to stop prescribing the oil.
Following his admission to hospital, the Home Office granted a 20-day licence for the use of the banned substance.
On Tuesday, the home secretary said the use of medicinal cannabis was to be reviewed, which could lead to more prescriptions of drugs made from the plant.