NI post-primary principals say education facing 'crisis'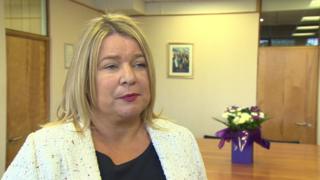 Education is facing a "crisis", according to a joint letter agreed by every post-primary principal in Northern Ireland.
The letter is being sent to the Department of Education, the Education Authority and MPs in Northern Ireland.
It is backed by about 200 principals across all 28 area learning communities (ALCs).
Gavin Boyd, the head of the Education Authority, said he shared many of their funding concerns.
The amount of funding all schools receive per pupil has declined in recent years.
"As post-primary principals across Northern Ireland, we are writing to express our deep concerns about the crisis facing our education system," the letter opens.
"In some of our schools principals are being required to make excellent teachers redundant during a time of ongoing and increasing industrial action."
Schools were also previously warned by the department that there was no money to pay for additional pressures this year.
"Underfunding has been a sustained pressure in the post-primary sector for the past five years and is now affecting all post-primary schools," the letter adds.
"Parents should be aware that the quality of education provided by the post-primary sector will inevitably be impacted by the reduction in teacher numbers and the associated unacceptable levels of pressure on serving teachers and leadership teams in schools."
This is the first time that post-primary principals have jointly taken this step.
The letter concludes by calling for reform of the education budget and how money is distributed to schools.
Parkview Special School in Lisburn has almost 200 pupils aged three to 19 years.
Its principal, James Curran, who signed the letter, said he has had to rely on parents to fund a sensory room and other vital equipment for pupils.
"We are all feeling the pinch," he said.
"More so in our school where we are being asked to provide a very specialist education and provision for the most vulnerable children on a shoestring budget.
"It's just not working."
A short distance away from Parkview, is Wallace High School, a large grammar school with about 1,200 pupils.
The principal, Deborah O'Hare, has also given the letter her full backing.
"I have been a school principal for 12 years in the post-primary sector and this is unprecedented," she said.
"We are actively making very talented, able, teachers redundant and that is not appropriate."
Some primary principals had previously written a letter expressing similar concerns about education funding.
In response, the chief executive of the Education Authority, Gavin Boyd, said he shared many of their concerns.
"It is very evident that there is not enough money to continue to run our education system as currently structured and schools are under severe pressure," he said.
"It is very clear that for a significant number of schools, whilst they are doing all they can to reduce costs, there is little possibility of living within their budget without seriously impacting the quality of teaching and learning in the school."
"We need a new education model that is cost effective and sustainable for the future whilst also ensuring that our children and young people can be the best that they can be."