'Nazi salute' man jailed for assaulting Easyjet pilot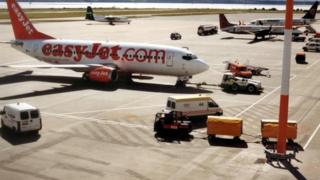 A man has been jailed for three months for assaulting an Easyjet pilot.
Paul Burgoyne, 51, made a Nazi salute when asked by a member of staff to put up a window blind as the plane was waiting to take off from Belfast International Airport for Birmingham.
After continuous aggressive behaviour, he was deemed unfit to fly by the captain and was removed from the plane.
As he was being escorted off the plane, Burgoyne grabbed the pilot by the collar and damaged his watch.
He was then arrested for trying to gain access to a tug that was connected to the aircraft.
'Lengthy period of drinking'
Burgoyne had been involved in a "lengthy period of drinking" before the incident on 11 February, his lawyer told Antrim Magistrates Court.
"There must be an element of deterrence in relation to these offences," said District Judge Nigel Broderick.
He added that incidents of alcohol abuse and a lack of respect for airline staff and customers were becoming more common.
Burgoyne, who is originally from Northern Ireland but now lives in Loughborough, received a three-month sentence for common assault, disorderly behaviour and endangering an aircraft.
He was also ordered to pay £600 in compensation for damaging the captain's watch.