Aidan McAnespie: Soldier faces checkpoint killing charges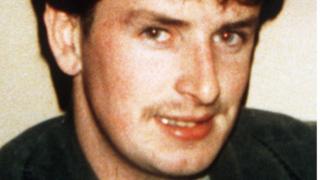 A former soldier is to be charged with manslaughter by gross negligence over the 1988 killing of a Catholic man at an Army checkpoint.
Aidan McAnespie, 23, was hit by one of three bullets fired from a machine gun in Aughnacloy, County Tyrone as he walked through the checkpoint.
He was on his way to a Gaelic football match.
David Jonathan Holden, 48, was informed of the intention to charge him on Tuesday morning via email.
Mr Holden, a former Grenadier Guardsman, was 18 at the time of the incident. It is believed he now lives in England.
His first court appearance is expected to take place within the next three months.
'Negligent discharge' fine
He was initially charged with manslaughter after the incident, but the charges were dropped in 1990.
Prosecutors have reviewed that decision and informed Mr McAnespie's family.
The family said, via their lawyers, that they welcomed the decision to prosecute.
Mr McAnespie's family claimed he had been deliberately targeted after a sustained campaign of harassment by the Army.
The soldier who fired the shots insisted he accidentally fired his gun because his fingers were wet.
He was fined for negligent discharge of his weapon and medically discharged from the Army.
Ricochet shot
A report by the Historical Enquiries Team a decade ago questioned his account of what happened.
It said his explanation was the "least likely" version of events.
The Public Prosecution Service reviewed the decision to drop the charges after the case was referred to it by Attorney General John Larkin.
He had been considering a request from Mr McAnespie's family for a new inquest into his death.
A PPS spokesperson said the decision to charge came after "careful consideration of all the evidence currently available in the case".
"That evidence includes further expert evidence in relation to the circumstances in which the general purpose machine gun was discharged, thereby resulting in the ricochet shot which killed Mr McAnespie."