Golden eagle escapes near border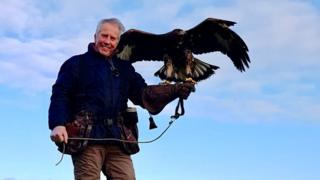 One of Ireland's rarest birds of prey has gone missing near the border between Northern Ireland and the Republic.
Boru the golden eagle took to the skies on Thursday evening during a falconry display at Castle Leslie, Monaghan.
Owner Brian McCann told the News Letter the bird broke loose from its leash.
Mr McCann has appealed for members of the public to come forward with any information on where the bird has been sighted.
"It's a disaster," he told BBC News NI. "The worst thing that could ever happen."
'Tried to lure him down'
While at a falconry display at Castle Leslie, the eagle, which has a two-metre wingspan, took a "merciful jolt" which snapped his leash.
"The quality of the leash was not what it should be," said Mr McCann.
"I got out some food and tried to lure him down from the trees where he landed.
"I was there for about an hour-and-a-half trying to coax him, and when he finally attempted to come for the food, the wind took off and it pushed him past it."
Mr McCann said he followed the bird in his car to a nearby pond.
"It was raining very heavily and although I didn't have a coat I stayed for a long time and called for him, but I couldn't see him anymore," he said.
"It's a desperate feeling to think it's my own fault.
"But sometimes things happen that you have no control over."
The falconer said Boru should be able to fend for itself as there is a lot of wildlife in the surrounding area, but he is keen to have it home as soon as possible.
"Golden eagles are massively bigger than buzzards, but people who aren't familiar with them can often mistake them for buzzards," said the former fire-fighter.
"What you're looking for with this bird is a mostly white tail with a black end, a light brown coloured neck and two large straps on its legs which will look like sticks from a distance.
"I'm a great believer in tomorrow may be the best day ever, and it may be the day we find the bird again."
If you spot the golden eagle, you can contact Mr McCann via the Newgrange Falconry facebook page.