Newspaper review: GAA fans anger; golden eagle escapes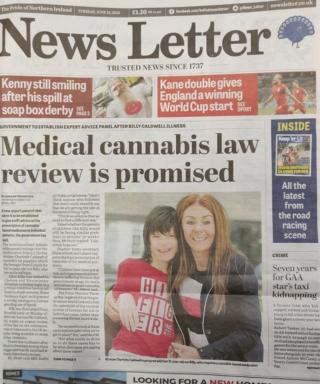 Furious GAA fans, Arlene Foster's "welcome" LGBT outreach efforts, a man called Kam O'Kazzy and, oh, just your bog standard missing golden eagle story are what's making the papers on Tuesday.
Missing golden eagle?! OK - let's start with the AWOL Jurassic-Park-raptor-with-wings.
The News Letter reports that the "massive bird" is on the loose in the border area around south Armagh after breaking free from its tether following a falconry display at Castle Leslie in County Monaghan.
Brian McCann, from Newgrange Falconry, says Boru, the first golden eagle bred in captivity in Ireland, was last spotted on Thursday night.
"I stayed at the castle that night and got up about 3am and went out as soon as it was bright. I was calling and calling but no sign of the bird."
Newgrange Falconry has appealed for the public for any information on Boru, but Brian added a common sense warning.
"It would take somebody who knows what they're doing to catch him. I wouldn't encourage the public to try to do that."
While that story of flying the coop pops up on page two, the News Letter's front page is dedicated to the ongoing case of Billy Caldwell, the 12-year-old who has now prompted a government review into the use of medical cannabis in individual cases.
The paper reports that an expert panel will be established to give advice on the use of cannabis-based medicines.
The move comes after Billy, who has acute epilepsy, suffered multiple seizures and was granted an emergency licence to use cannabis oil, which is illegal in the UK.
This story is also reported in the Daily Mirror, which says that Billy has been discharged from a London hospital but cannot yet go home.
His mother, Charlotte, vowed to stay in London until "we get this situation sorted with the government for every other little boy and girl who needs medicinal cannabis".
Elsewhere, in the Daily Mirror, a far-right group trying to establish itself in Northern Ireland says "we are not neo-Nazis".
The group, called Generation Identity, was responding to articles following its presence at a rally protesting against the imprisonment of former English Defence League leader Tommy Robinson.
GAA blackout
It accused the media of using "dirty tricks and deceit to paint all patriotic attendees with the same brush".
There's a more sorry state of affairs on the front page of the Irish News, which leads with an apology by one of the world's biggest broadcasters to Northern Ireland's GAA fans.
Sky have apologised after irate fans were unable to watch the RTÉ's Sunday Game highlights and said the show was "incorrectly blacked out".
However, a former Sinn Féin lord mayor of Belfast has vowed to pursue the issue.
"The ongoing block on important sporting events broadcast on RTÉ is causing major frustration for sports fans, and members of organisations like the GAA," said Niall Ó Donnghaile, now a senator in the Republic of Ireland.
"This treatment of GAA members in the north is unacceptable." Expect this (side)show to go on (and on).
Cast your mind all the way, way back to yesterday (Monday) - you might recall reports on DUP leader Arlene Foster vow to attend an LGBT event in Stormont later this month.
Well, Tuesday brings more details on that event and a welcome from LGBT organisation The Rainbow Project.
Unsung golf hero?
The event, a summer reception organised by website PinkNews, will see politicians, celebrities and other figures debate LGBT issues.
Rainbow Project director John O'Doherty said that while Mrs Foster's attendance "cannot erase the decades of hurt" he hoped it marked the beginning of a new relationship with the DUP.
Now, let's tee-up Northern Ireland's latest, but lesser-known golf hero - you'll have heard of Rory McIlroy, Graeme McDowell and Darren Clarke. But Ricky Elliott?
Well, behind every great golfer is a great caddy - and Elliott is no exception after being on the bag for US Open winner Brooks Koepka at the weekend.
The Portrush man has been Koepka's caddy for six years and it's their second consecutive US Open win.
The Belfast Telegraph says he pocketed a not bad £151,000 for his four-days work at Shinnecock Hills at the weekend.
Royal Portrush head professional Gary McNeill told the paper that Elliott was a "very good junior player" and that his ability has carried through to his caddying days.
And finally, headline of the day klaxon! Courtesy of the News Letter (drum roll please): "Kam O'Kazzy Kenny in Soap Box Derby crash".
This story has got a bit of everything - there's Kenny Taylor, aka Kam O'Kazzy Kenny, who, in his own words, used his "face as a brake" during a soap box derby in Portadown at the weekend.
Kenny, who said he was aged "21 and a bit multiplied by three", took the unfortunate skid with his team mate RJ Woolsey and said he'd lost half a nose as a result - but it was the "best night's craic in years".
He vowed to carry on soap box racing. "I have always been a bit mental," he told the News Letter.
Kam O'Kazzy, we salute you.