Labour peer calls for post-Brexit border clarity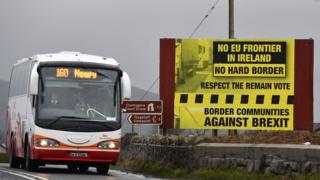 A Labour Peer has called for greater clarity when it comes to Brexit, Northern Ireland and the border.
Baroness Armstrong made the comments as peers questioned the Brexit Minster Robin Walker and Shailesh Vara the Northern Ireland Office minister.
Peers also raised the issue of how Brexit will effect cross border security and the Common Travel Area.
Former Labour MP Hilary Armstrong who is now Baroness Armstrong said many questions still need answered.
Speaking in a House of Lords committee which is examining Brexit she said:
"There are things we need to do in order to maintain the north south and the east west cooperation."
'Contradictions'
She said there were "contradictions" on how life after Brexit would work and the government needed to give "more clarity ".
Brexit minster Robin Walker dismissed the criticism and said the government "had set out clarity ".
He said there was clarity on issues like the Common Travel Area and the Single Electricity market.
Lord Jay raised the issue of border security and said police agencies in Northern Ireland and the Republic of Ireland had concerns about how the frontier could be managed after Brexit.
Shailesh Vara, the Northern Ireland Office Minster, said the government would like to see "a specific bespoke UK-EU security treaty".
He added the key areas would be practical cooperation, work between the different law enforcement agencies and the exchange of data.