Strule campus: School project delayed until at least 2022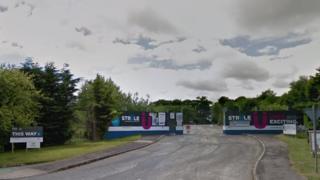 The secretary of state has said that the completion of the Strule shared education campus is to be delayed until at least 2022.
Karen Bradley made the comments during a visit to the County Tyrone site on Monday.
The campus had been due to open in 2020, but that had previously been delayed until 2021.
Mrs Bradley also announced that the UK government is to provide £140m towards its construction.
The biggest school building project in Northern Ireland will eventually see six schools built on the site of the former Lisanelly army base in Omagh.
Although work began on the Strule campus in 2013, only one school is currently open.
"You're restricted to doing things by a school year so it's either got to be September 2022 or possibly 2023," said Mrs Bradley.
BBC News NI understands that the UK government's funding commitment is drawn from a previous £500m announced under the Fresh Start Agreement.
That funding for new shared and integrated school buildings was part of the Stormont House agreement in 2014 and was re-affirmed in the Fresh Start Agreement in November 2015.
In March 2016, the then secretary of state Theresa Villiers announced the release of the first tranche of the education money.
But £91m of the £100m available between 2016 and 2018 was left unspent.
However, following negotiations between the Treasury and Department of Finance that funding can be carried over until 2021.
Although Arvalee special school opened on the site in 2016, the Strule campus has faced problems.
The campus had been due to open in 2020, but that has been delayed until 2021.
In February 2018 the procurement process for the project was suspended, leading to fears of further delays.
According to briefing notes provided to Ms Bradley for her visit, the Fresh Start funding is a "key demonstration of confidence in the project progressing."
However, the notes also said that to progress the procurement process may require ministerial direction or an intervention from the UK government.