C. diff infection confirmed at Dunmurry Manor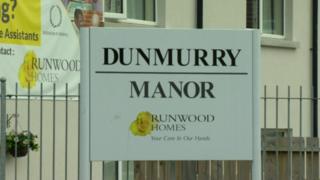 There has been an outbreak of C. difficile at a Belfast care home, the Public Health Agency has said.
The bacterial infection, which causes diarrhoea and fever, was confirmed at Dunmurry Manor on Monday.
The home has been in the media spotlight after a recent report found a "horrific catalogue of inhuman and degrading treatment".
The Commissioner for Older People spent more than a year investigating complaints by residents' families.
The home is owned by Runwood Care Homes, a company based in England.
Antibiotics
The Public Health Agency said it was working with the care home following the report of the first case of C. diff infection.
"Public health and infection control advice has been provided and supported with facility visits, more of which will take place this week," said Dr Muhammad Sartaj.
Most people become only mildly ill and then recover fully, with symptoms lasting from a few days to several weeks, the agency added.
C. diff infections have been a major problem in hospitals around the world.
The bacteria are able to take over the gut when a course of antibiotics kills off the bugs that normally live there.
The infection can easily spread and can sometimes cause serious bowel problems, but they can usually be treated with another course of antibiotics.
The Regulation and Quality Improvement Authority have been informed of the outbreak, which is a statutory requirement after two or more cases of infectious disease in a nursing home.
A spokesman for the home said there was only one "current case" of C.diff and they had been advised by medical experts that no further action was needed.
"The resident in question is a C. diff carrier who is receiving palliative care," he said.
"The resident recently suffered an unidentifiable infection which has been closely monitored by medical staff and treated with antibiotics, which have in turn caused the flare up of C. diff symptoms.
"The resident is in isolation and her room, and the entire unit, have been disinfected and terminally cleaned."