Met Police infiltrated NI civil rights movement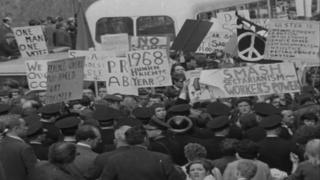 The civil rights movement and Sinn Féin were infiltrated by an officer from the Metropolitan Police during the early part of the Troubles.
The police force has disclosed the information to an inquiry into undercover policing by forces in England and Wales.
The Times reported that the officer, known as Sean Lynch, worked in Northern Ireland in the period 1968-74.
His involvement coincided with Bloody Sunday in February 1972.
Thirteen men and youths were shot dead and another later died of his wounds when the Army opened fire on a demonstration organised by the NI Civil Rights Association (Nicra) in Londonderry.
'One eye closed'
In addition to Nicra and Sinn Féin, the now-deceased Mr Lynch, whose real name has not been revealed, also infiltrated the Irish Civil Rights Solidarity Campaign and the Vietnam Solidarity Campaign.
The revelation has renewed calls for the remit of the Undercover Policing Inquiry (UCPI) to be extended to Northern Ireland.
Lawyer Darragh Mackin is seeking a judicial review to extend it.
He said the time period "falls squarely into the time that (Nicra) had organised the Bloody Sunday march" and this was an element of undercover work that had "fallen completely under the radar".
"The legacy investigations into the Troubles have been effectively operating with one eye closed," he added.
Behind schedule
UCPI was set up in 2015 by the then Home Secretary Theresa May to investigate claims of wrongdoing by forces in England and Wales.
It followed a series of allegations, including claims Met undercover officers had tricked women into sexual relationships.
Mr Mackin is seeking a judicial review to extend its remit on behalf of Jason Kirkpatrick, an environmental activist in Northern Ireland in the mid-2000s.
He claims that an undercover Metropolitan Police officer infiltrated a group he was part of in Northern Ireland during that period.
UCPI has suffered serious delays and is currently running well behind schedule.
It is not expected to report until at least 2023.