Arlene Arkinson: Exhumed body was a man, inquest hears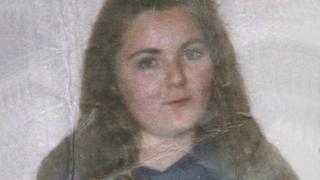 A body exhumed as part of the investigation into the disappearance of teenager Arlene Arkinson was that of a man, an inquest has heard.
The information was provided at a hearing of the Coroner's Court in Belfast on Monday morning.
The body was exhumed from a grave across the border in County Sligo in March.
It had been suggested previously that the body may be that of a woman with long hair, wrapped in plastic.
Tests were carried out and the missing girl's family was told earlier this month that the remains were not those of the teenager, who disappeared in 1994 after a night out in County Donegal.
The family's legal team were not informed until Monday that the exhumed body was that of an adult male.
The family said previously they were devastated to discover the body was not Arlene.
The missing girl, from Castlederg, County Tyrone, was last seen in the company of convicted child killer Robert Howard, who died in 2015.
He was acquitted of Arlene's murder, but remains the prime suspect in the case.
Monday's hearing was told that details about the body in the grave were disclosed in An Garda Síochána (Irish police) files obtained by the coroner, Brian Sherrard.
Before adjourning the inquest until September, Mr Sherrard said he needed to get clarification from Irish police on a number of matters.
The coroner said he understood that four bodies were recorded as being buried in the grave where the exhumation took place.
However, he said, he now needed to know if the body that "appears to have been buried in an unconventional manner" was in fact a fifth body in the same grave.
He also said he wanted to know if all the bodies in the grave had been exhumed and examined as part of the investigation.
The coroner said this would help to clarify whether other bodies in the grave had anything to do with the disappearance of the teenager.
He said he needed Irish police to "fill in the blanks" about decisions they had made in recent months.
However, Mr Sherrard stressed that he was "asking, rather than demanding", as his office does not have any jurisdiction over An Garda Síochána (the Irish police).
Because of this, he said, the PSNI might be best placed to bring these issues forward.
The Arkinson family's legal team also wants to know what changed to make gardaí suspect a "possible link" to the disappearance, despite police files showing there was not enough information to make such a link 18 years earlier.
The family's barrister said: "We need to know that piece of information. Otherwise we are intruding on the grief of others, unnecessarily."